POISON Monterrey, MEXICO (June 1st) Video Footage Available
June 2, 2011 / 3059 reads / 8 comments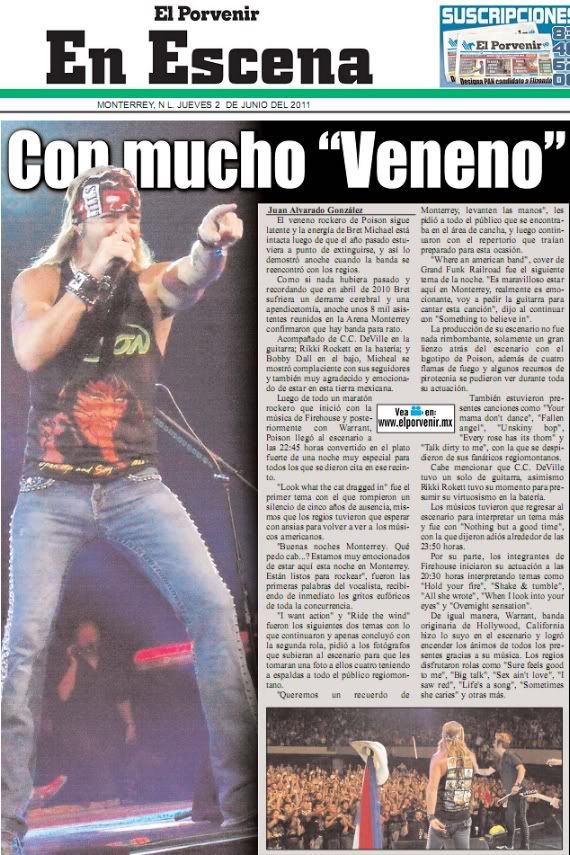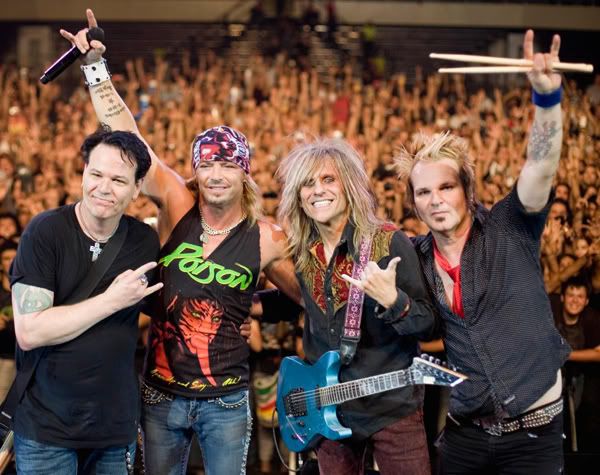 Bret Michaels, C.C.DeVille, Bobby Dall and Rikki Rockett played in front of 8,000 excited Poison fans last night (June 1st) at the Arena Monterrey in Mexico.
10:45 p.m. Poison started the fire with "Look What The Cat Dragged In", breaking 5 years of silence since their last visit to the country. "Good Night Monterrey! We are very excited to be here!"
When "Ride the Wind" finished, Bret asked the press to come onstage to take a photo of the band with their fans on their backs. "We want to remember Monterrey, so raise your hands!". Grand Funk Railroad's "We're An American Band" was next. "It?s fuckin? good to be here tonight! I am going to ask for a guitar for the next song" said Bret and "Something to believe In" starts to play.
Poison played for about 70 minutes and rocked through hit singles like "Nothin? But a Good Time," "Unskinny Bop" and "Every Rose Has Its Thorn."
Poison Setlist for Monterrey, Mexico:
Look What The Cat Dragged In
I Want Action
Ride The Wind
We?re An American Band
Something To Believe In
Your Mama Don?t Dance
C.C.?s guitar solo
Fallen Angel
Unskinny Bop
Rikki?s drum solo
Every Rose Has Its Thorn
Talk Dirty To Me
Encore
Nothin? But A Good Time
http://www.record.com.mx/circo
http://www.elporvenir.com.mx
Videos courtesy of Record74
LATEST NEWS
RELATED ARTICLES
---