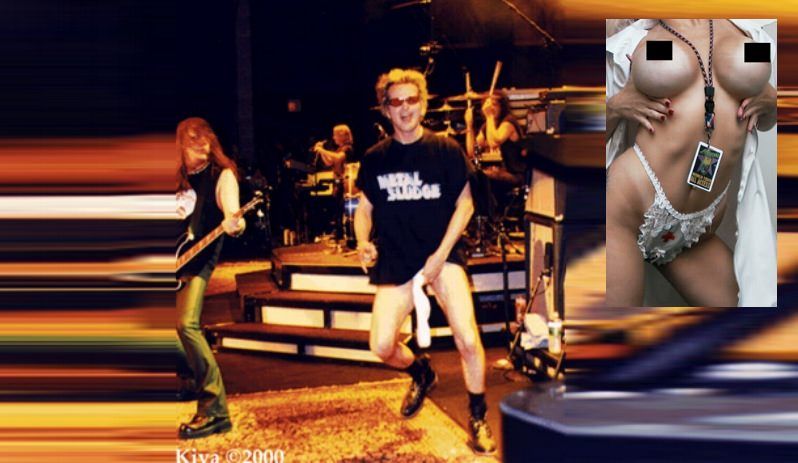 Dear Sludge Diary,
Oh-my-Gawd! Check this shit out! If you've seen our show this year we use a huge assed disco ball that weighs like 300 some odd pounds. Well, it fell! Yep, came crashing down in all it's mirror glass glory straight for where Bret usually stands in the middle of our set. Luckily, Bret was out at the front edge of the stage starring at breasts filling sludge and Poison t-shirts at the time. See, sludge does have a purpose! Anyway, none of us got killed, much to the dismay of many. That would just be our luck though. Newspaper would say: "Poison members killed by large disco ball onstage!" I think I'd rather have a news liner like, "300 pound groupie rolls over and kills Poison drummer!" That would be more fun. Well, that was almost the case as you'll later see.
In the meantime... Well, here we are in the land of thousands of dancers... Dallas, TX! We are hubbed here for several days and the trouble we could get into could be glorious. I plan on seeing my friend and confidant Gina Shock tomarrow at the Go-Go's, B52's, P-Furs show. Wanna see Gina in a Sludge shirt? Fed-X me one you cheap bastards! Ya think press comes free? Maybe I should ambush them during their show too? Hmmm...
Anyway, let's back track to Rockfest 2000 last night in Cadot, Wisconsin. Let me say this first, the fans were out of fuckin control! 40,000 plus just in a frenzy. It was glorious to say the least! We did this show last year with Sammy Hager and it rocked last year too. Odd bill though, a couple of local acts, Blood, Sweat and Tears, War, Dobbie Bros. and Poison. A Little different, huh? No wonder they were ready to loose their fuckin' minds by the time we hit the stage. A little distorted guitar goes a long way after those acts. No disrespect here at all. The Dobbies are legendary. Just sayin' that the crowd really needed to rock hard by then.
Earlier that day, with a proverbial roll-of-the-dice, I asked Big John if there was any cuties hangin' around that me and the boys might enjoy. He goes, "Well, let me go out and take a look in the golf cart." An hour later he returned and said, "Well, it's early, but there is three really nice looking women who really wanna meet Bobby, Bret and C.C. As for you, well, welcome to the bottom of the gene pool for now. Maybe later. After all, you are the drummer, bro. "Well, whatever! I'm horny now, John, so try and find some one ready to rock. It's been a tough week, John!" I emplored. "O.K.!" So, off went Big John. Not ten minutes went by did Big John return to the dressing room uttering the super-genius words, "Rikki, there is someone who would like to say hi!" O.K., O.K.! I realize that I am askin' for it. But what the hell? Maybe, just maybe, there is a nice young lady who is both beautiful and fun loving with a great personality out there who likes yours truly. Aaaaaaah, nope! Not exactly. Enter KornFed, a 240 pound woman that is "one cromosone away from Downs Syndrome". KornFed loves wrasslin' and rumour has it that she actually knocked down a corn silo some two years earlier when she was wasted on glue and vodka.
The door cracks open and a mass of bad perm, trailer green eye shadow and orange fake chewed finger nails come racing past John as KornFed does a perfect double leg take-down thumping me to the ground! "How's that slant eyed martial arts shit workin' fer ya now?" She grumbles with a really evil grin whilst some funky greese drips off her chin, just missing my face like near Value Jet catostrophe. "That's so fuckin' hot!" John yelps. Here we go again... KornFed tries to pass my guard (tries to mount on top) as I manage to slide my right foot under her hamhock like left leg. I grab her right arm just above the elbow, slide my hips to the left and somehow manage to sweep her 240 pounds over and on to her back. "Now that's what I'm talkin' 'bout!" she smiles. Uh, oh! She actually digs this shit. I never wanna hurt a lady, but I also realize that her and some fuckin' guy must practice WWF moves in the living room and 'ol KornFed isn't gonna let a little 'ol Jiu-Jitsu sweep stop her. No way baby! I think, then before I react... Wham! She kicks her left ham hock into my back enough to send a bolt of reality that this chick is kinda serious here. I roll onto all fours and slide my right knee on top of her while holding down her left shoulder. A knee ride, if you will. "Fuck you!" She yells. She does the perfect move. She extends her right arm to push my knee off of her. Opps! Mistake Silo Grrl! I grab it and lay back into a arm-bar. I begin to lift my hips to appy the pressure just enough to let her know who is boss when all of sudden, I feel teeth dig into my outside thigh. I now have three choices. 1. Kick her in the face, thusly injuring her for real. 2. Apply the pressure with the intention of "If you ain't tappin', I'm snappin'!" 3. Call on Big John and be a pussy. I opt for number two. I ease my hips upward as she continues her teething. Snap! Oh, my God! I thinks to me self. I actually broke KornFed's arm. This is not good for the Personal Relations office.
I let go swiftly. "I guess I got ya!" she sez. "Got me?" I question. It seems that all I snapped was her bra that was pulling like telephone cables against her flabby skin. "Yee Haw!" She yells as she swoons her carcass inside my thighs once again. O.K.! Enough is enough! I slide my right leg over her thick shoulder, pull her right arm across my chest, pull down on her head and cross my left leg over the right leg and sqeeze her into triangle choke. She tries to say something, but I have had it by now with miss silo destroyer. She coughs in a deep voice and finally goes limp. I let go and slide out as she thumps to the floor. "Rikki, you fucking asshole! John yells. She's a fuckin' chick for God's sake! Ya didn't have to make her pass out ya fuckin' wuss!" "John, just shake her. She'll come around in a second" I sez. "Shake her? Are you a fuckin' idiot? What if you killed her? I am not going to be an accessory to murder! You are in deep shit, Rikki. Not mention that I'm quiting this fuckin' tour!"
KornFed shakes her head as she re-awakens. "You are one hot piece, Rikki Rockett!" She utters. "She's alive!" John says, as he laughs with a really eerie glee. "Of course she is, John. You really think I'd kill someone?" "Yeah, I do!" He responds. "Can I come to Dallas with ya'll? Asks KornFed. You are really fun!" "Yeah, fly her in Rikki. It's the least you can do after that asshole performance you just did!" John mutters. Why don't you just show up and I can intruduce you to Dokken. I sez. Don just loves wrastlin'!" KornFed responds after a moment, "Really? O.K. Sure! I can't wait for that!"
Oh, and Big John? Well, he's still out here on tour. He likes wrasslin' too!
Rikki Rockett
Open up and say, squeeze!
Side Bar: For those of you that think these diaries are bullshit... Please, simply approach Big John at a show. Maybe a lucky Sludger can see first hand the Poison freak show.
p.s. Nurse Karen sent a new pic. Enjoy!