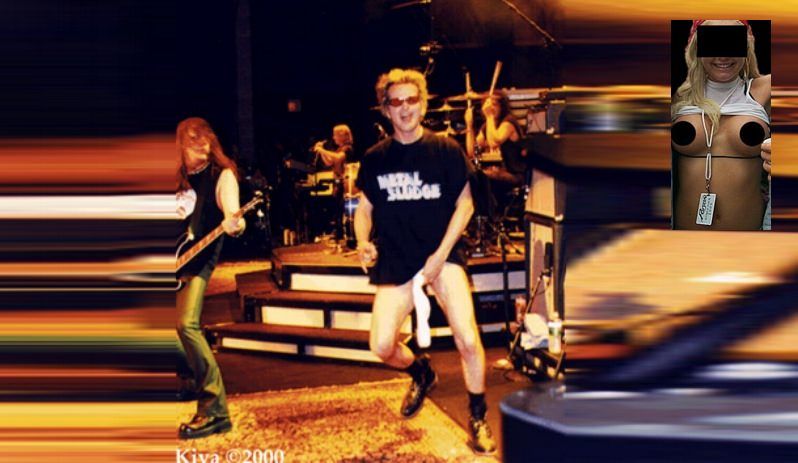 Dear Sludge Diary,
~ The end of the "Tour Diary" dayz are closing in! To some that may be a blessing. Maybe Sludge will bless me with my own column like Jizzy Pearl has or somethin'.
~ We have been lucky enough to have had famed artist Helen Gerber and her photographer husband David, out with us for much of this tour. Helen does lifesize oil on canvas paintings based on David's photos. She does modern/americana pop iconz. There will be an opening in Soho, New York next year highlighting her work with a book to follow. Yep, Poison, Glam rock's industry leaders, will be featured. More interestingly will be the content of groupies, friends, oddities, etc. from the shows this summer. If you are around and she wants you for a subject, do it! She fuckin' rules and this is your chance to be immortalized. It's a honor, really! She will be grazing for subjects for another couple of shows. She is a hottie, but alas, she is married and David don't take no shit!
~ Onward Poison soldiers...
There are two roads to hell. 1. Give 'em what they want. 2. Don't give 'em what they want. Enter... "Starlet the Vargas Girl". A few shows ago, John tells me that some chick is waving from the crowd wanting to get my attention. I was just watching Dokken side stage and there she was... 5'2", blonde, looking like a Vargas warplane painting sitting on some dudes shoulders. Hot isn't enough to describe this damme. Nice everything! I mean, complete package here. John gets her back to see me and she goes, "I'm in Bret's fan club, but I have been wanting to meet you." Cool! Ya ever been with Bret" I ask. "Nope! Not at all." she says in a husky from yelling voice. I now notice her tits. You could bounce cannon balls off of these suckers! "Wanna play a little after the show big boy?" she says. I swear, It was like she was reincarnated from one of those USO girls that used to go on Navy ships to entertain troops or somethin'. "What 'cha got in mind, there chick-a-dee?" (I'm playing along, of course.) "I like candles. Hot, red candles" She sez, smoothly. "O.K. Done! I'll be waiting." I say, as I wave her off 'till after the show. "John, get her back without a hitch, please!" I implore John. "Rikki, what do you think I am? An Asshole?" I don't bother to answer...
~ 12:45 a.m. Everything is set. I had stolen some candles from Cinderella's dressing room and a bottle of bubbly from the promoter. Bret was on the bus, Bobby was with some chick with 7" inch heels and C.C. was mashing some guys guitar in the parking lot. (The guy asked him to do it! Search me?) I was set to go. I think to myself, self, you are gonna sink that pink like the Titanic!
~ VargasGirl enters looking like a airbrushed painting. Sparkling eyes, red sparkling thong to match her red top, devilish grin and a body to die for. "You are a cutie!" She exclaims. (O.K., so she's lying.) "I can't cum unless you pour wax on my ass." She says. "I Understand," I say. "Here, (she takes off her thong and exposes her ass towards me) pour it on the small of my back." "Now?" I ask. "Yes, now." She sez. I carefully lift one of the candles off the floor. I then rubber up, (put a condom on) and point Mr. Happy (my dick) towards the target area (her kittie) , and bombs away with the wax! I figure, whatever! This should be fun. Kinda like Madonna in that one movie.
~ I outstretch towards her tan 'lil butt and start pouring wax as prescribed by Miss Starlet right in the small of her back. "Ouch!" She wallows. She snaps her back up towards the air and causes the wax to roll down her ass crack. Guess where it rolled? Right in Mr. Happy's line of fire! Fellas, I don't recommend hot wax on your dick. Couple that with it burnin' through latex! It fuckin' hurts. To each their own, some dudes might dig it, but it was burnin' somethin' fierce! "Ohhhh, fuck!" I scream. Bam! the door swings open and a mini-Starlet appears. Yep, Starlett the Vargas Girl's twin busts in the door screamin', "Don't fuckin' hurt my sis you asshole!"
Starlet
Of course, Big John follows suit right behind her, "Rikki, what the fuck are you doin' to her?" "Both of you, get the fuck outta here!" I scream. (Realize, I'm in pain at this point!) "Don't you talk to my sis like that ever, dickwad!" Mini-Starlet yells. Thunk! A big 'ol fully loaded plastic 7-Up bottle raps over my head. The impact cracks the plastic and gooey, fizzling 7-Up comes drooling over the both of us. "Well, that just sucks! Dammit sis!" Starlet, sez. (Is she actually sticking up for me?) "I'm taking my dumbassed sister home, Rikki! I'll be at a show sometime next week. Let's go for it again. O.K.?" "Yeah? Well, I dunno" I sez. My dick is kinda fuc... I get interupted. "Rikki, the bus is fixin' to leave soon!" Comes the cry from Tour Manager Rob. "Yeah, O.K., as soon as I take a shower, Rob, I'll be out." I answer. "Sorry, bud, (Rob calls everyone Bud) there aren't any showers here. You'll be fine 'till we get to the next gig. Let's go bud!"
~ Update: E-Mail from Starlet
Rikki,
I will be at one of the shows this week. I'll see ya then.
I don't know if I want to be with you again, though. I read that Metal Sludge thing and I think you are kinda wierd now. Is all that stuff true? It does kinda turn me on in a way. Oh, well, we'll see. LOL!
Boo-boo-bee-do,
Starlet
Oh, and get this. Here's an e-mail from Hick 'N' Proud that just came in last night too.
Rik,
Hick 'N' Proud here. Fuck you for Sludging me! I wasn't that drunk. I was dryer than a grasshopper on a hot skiddle that night and the only beverage there was some southern comfy. Sure, I hurled, but it wasn't the comfy, it was some roadie that was fartin' in my face while I was dancin'. I didn't give you permission to stick that hick assed pic of me up there niether! That's a double fuck you! Go whack off asshole!
Hick 'N' Proud
Yeah? Now you're really gettin' it Hick 'N' Proud! Send sludge offerings to: hicknproud@aol.com
That's it for now kiddies! Onward to Florida...
Rikki Rockett
"I don't want a holiday in the sun!"
- Sex Pistols