RIKKI ROCKETT from the road!
May 28, 1999 / 632 reads / No comments yet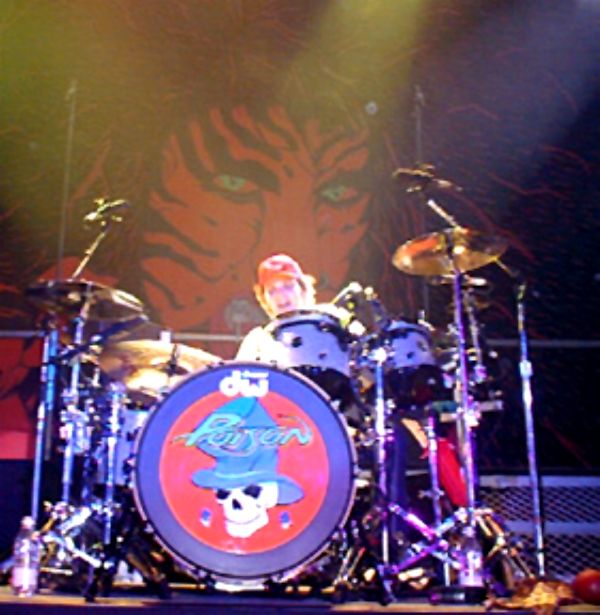 Hi All!, Yes, this is a mass e-mail and if you don't want these updates, just let me know. The Wednesday radio listening/soundcheck party was awesome. We (Poison) did 4 songs from the show and tested all of our pyro cues. There was a pyro mis-cue on the first songand it almost took Bret's head off, but he managed to pull away in time. He got a bunch of crap in his eyes, but no major problems. I get dusted with about a pound of ashes every night because 4 pyro gerbs and a atomic blast comes during the show right by me. It's actually a really cool feeling, but it's kinda scary at the same time. Thank God for washers and dryers! The first show in Rockford, IL. was really great. The people there rock thier asses off and we were told that rock was dead in Rockford. Bullshit! We made a few minor mistakes during the show, but generally I was suprised at how well we stayed with what we had rehearsed. We meeted and greeted over 250 people after the show and there wasn't a numbskull in the place, everyone was cool. That many meet and greets are tough and we can't do it every show, but it was worth it this time for sure. The highlight for me was dedicating my drum solo to Bun E. Carlos of Cheap Trick who was in the house as well as Rick Neilson. Bun E. is my all time favorite and I will post a pic of him and I together later on the www.poisonweb.com site. I wore a white shirt and tie like him as tribute for the first half of the set. Next stop is Cleveland , OH and we are ready to rock this mothership! Talk to ya all soon.
Rikki Rockett from the road!
---