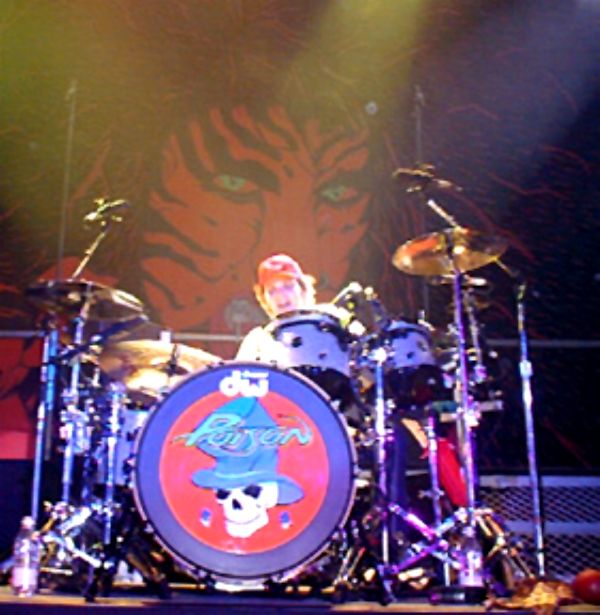 Yep, It's me Rikki, back with ya for some more Poison info from the road. We are currently in Milwaukee,WI. on a day off. We will be playing The Marcus Ampitheatre tomarrow night. The Pittsburg, PA. show was awesome with many of our familes who still live back there in tow. Although Bret had strep throat, the show went on in spite of Doctors orders to cancel. The house was rocked on all levels and the following show in Columbus, OH. was just as kick ass.
Again, the amount of people showing up to the events is amazing! I have seen everything from Old Poison fans to new 14 year olds at the after show events. It's so inspiring to meet these people who are so moved by what rock 'n' roll and Poison has meant to them. It makes everything we have ever endured worth it.
Poison is being inducted into Dick Clark's Rock 'N' Roll Hall of Fame on Mon, Jun. 7th. This marks the first band of our Genre to be inducted. We will be doing a ceremony in Indianapolis, IN. where the Hall is located. We play the following night at Deer Creek Music Center. Poison is very gracious for this achievement.
Bret is doing much better now as we head into another 3 in a row. The Doc has him on medications and he isn't talking until the shows and stops after the shows so we can get through till he is 100%. So, if you are on of those folks backsatge after, remember, he shouldn't be talking. Please give the guy a break so we can rock every state on this tour.
As for me, the usual drumstick blisters are appearing, but no biggie. I've had 'em much worse before. I guess the two months of 4 hour drum practice sessions are paying off for me. Bobby is great and C.C. "Buzzsaw" DeVille is still running 4 miles a day not including the Poison show.
That's it for now. If I promised you passes for a show, e-mail Lori at" CLUBRKT@aol.com (Pres. of ClubRockett) and she'll foward the info to me on the show day as I have some problems with e-mail from time to time.
Love you all and remember, compassion begins on your plate...
Cheers! Rikki!