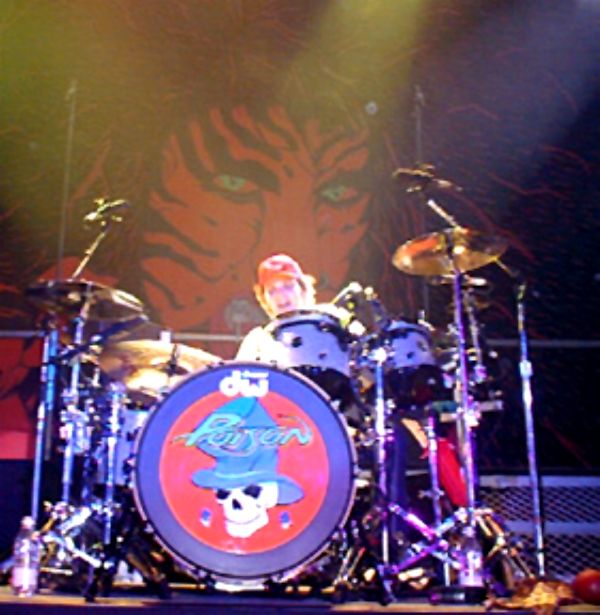 Hello all!
Sorry, it has been a pain getting to a decent line to do my e-mail as of late. I have so many pics to add to the Poison site (www.poisonweb.com) and simply haven't had a chance yet. But, I will soon!
The shows have been awesome! Today we play Pheonix, AZ. and then off to the LA shows. Since 3 of us live in LA, the shows will be a mess for backstage and the guest list is really full. So bear with us, we can only do what we can do. I think it would be easier to dodge a bullet as it will be to make all of our friends happy at that show as for backstage!
What are ya gonna do? We will be recording the show for a possible Live Record and KNAC will be doing a simulcast on the internet as well. (www.knaclive.com)
As always, e-mail my fan club pres. Lori with any questions at: CLUBRKT@aol.com Lori has been a godsend with all her help, so go easy on her. I drive her nuts!
Remember, we try and meet as many people as we can out here on the road, but there are only so many hours in a day and only so much energy we can expend. The show is the most important.
This tour has proved four things so far:
(1.) Rock is far from dead!
(2.) Poison fans are the very best in the fuckin' world!!!
(3.) Poison has the coolest guys at our shows.
(4.) Poison has the most beautiful girls in the world at our shows!
Till next time or till we meet, take care of yourself, treat the earth like your lover and remember, the animals have only one voice... you!
Peace out,
Rikki! (The post punk, post glitter, glammin' vegan drummer)