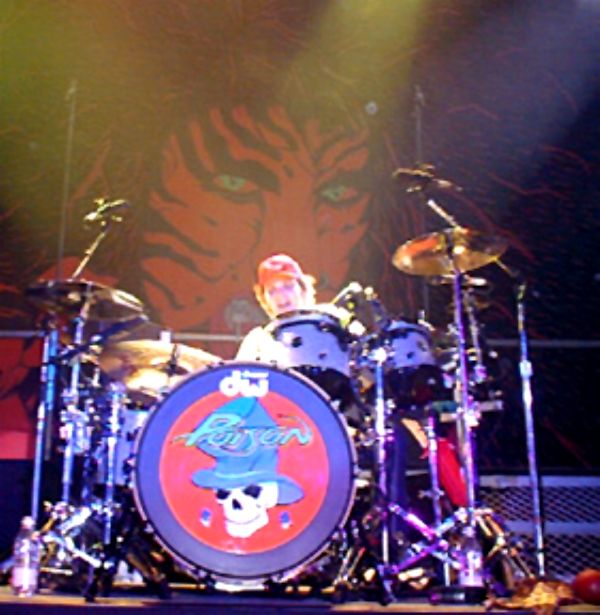 Hello all,
It's Rikki from the road again. Been too crazy to get out a mass "Rockett Road Report" as of late. We (Poison) have been doing several shows back to back and then some long hauls in between.
I have gotten several complaints about the Chicago After Show. Understandably so. Many, people at the After Show got screwed and I apoligize immensily. We had over 500 guests and a long run ahead of us. It was simply impossible to meet everyone. It should have been handled differently, it wasn't and I am sorry. I will do anything I can to try and make it up to everyone. How? I'm not sure. I am open to suggestions.
Onward... Remember, Sunday, July 11th is the VH-1 Behind The Music Special about Poison. Check your local listings for air times.
Poison is recording tonight in Charlotte, NC. We recorded live in Nashville as well and so far so good. What we are going to do with these recordings has not yet been determined. The main thing is that we get this reunion on tape. Who knows what we'll do with the recordings, but we have considered a few options one being a record called "Live Plus Five" with five new tracks.
Who knows right now. We are just happy as all hell to be on tour!
We have added a show on 7/18/99 called "PigStock" in Wisconsin. See:www.poisonweb.com and I'll have the info up there for all the details on this date in a day or two.
Many people have asked stuff like; "Why the hell ain't cha playin' in such and such a place?" There are several reasons we aren't doing everywhere in the U.S. First, not all markets have outdoor venues and this tour is primarily (not solely), but primarily, all out-door shows. Also, it depends on where we are when the venue is available. You can't go from LA to Baltimore the next night and some of these gigs would have had it that way. We have trucks and road crews that need to travel and it's an impossibilty at times at those distances when the venues are available. For example: (This is just an example) Say we are in MN and play Minneapolis. The next night it would be great to play Duluth, but, maybe a basketball game is there and we couldn't back track the following week because we'd be on the East Coast by then. This gives ya some idea about how these things come togther.
Every single show has been magic for me. The people at our shows are hell raisin' fools, just the way I love it!!! Just please take care when you leave. We want you all safe. We honestly give a shit.
Anyway, as always, on behalf of Bret, Bobby, C.C. and myself, thank you everyone for supporting Poison and rock in general. This tour is about our fans and us. Poison has the best fuckin' fans in the world and we love you for it. You are truly the stars at our shows. We are just the entertainment.
Slaps, hugs, kisses and whatever from all of us,
Rikki Rockett ( On the road somewhere )
Remember: If ya love animals, don't eat 'em!