BRET MICHAELS Not Engaged, Just "Dating With Benefits"
July 14, 2010 / 786 reads / No comments yet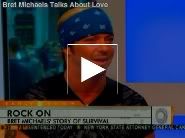 Bret Michaels tells today to CBS' The Early Show, "No. We are not engaged yet. We 're a work in progress." And Michaels explained why Gibson wears a ring on her finger, adding: " (It's) a promise ring... a friendship ring, with benefits. That's what we call it."
http://bit.ly/bccqwD
---