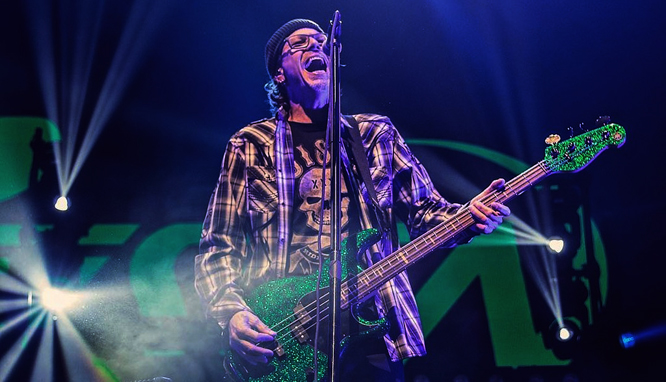 David Rolland of
Miami New Times
talked with Bobby Dall on Poison's early days. A few excerpts of the interview follow below.
Poison were once synonymous with androgynous, glammed-out hair rock. "It was a statement," Bobby Dall explains while recalling fashion choices such as hair spray, lipstick, and spandex. "Back then, [the '80s] album covers were a huge ad. The cover of Look What the Cat Dragged In made people stop and ask, 'Are they boys or girls?'"
"We were glam from the start. People used to throw rocks at us, but we didn't give a shit. We had a vision. We didn't care what people thought of us."
In 1983, Dall, singer Bret Michaels, and drummer Rikki Rockett made the move west to California in hopes of fulfilling their rock-star ambitions. After they met guitarist C.C. DeVille, they began their slow ride toward world rock domination. Dall looks back fondly on their days of struggle. "We all lived together until that first album broke, first in a warehouse where we built bedrooms and a rehearsal space. Then eight or nine of us all moved into a space in the Hollywood Hills. You learned real quick not to need privacy. But when you're hungry, life is at its peak. We were struggling to eat and achieve our dreams."
Thirty years later, the same four members are still playing their hits together, a true rarity in the music business. "The only way I can describe keeping a band together is it's like having three wives," Dall says. "You have to work through things... We need to keep the original guys together because success begets success."