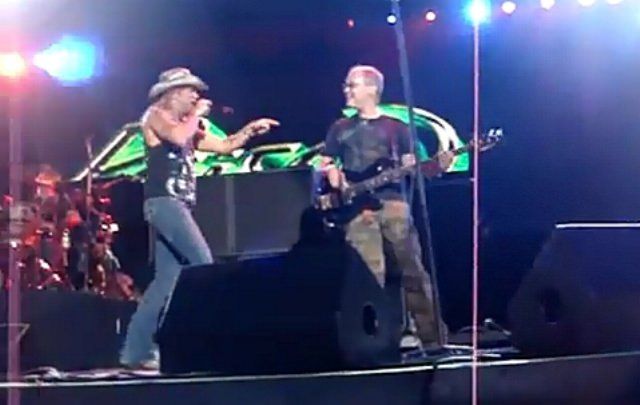 BON JOVI's bass player Hugh McDonald filled in for Bobby Dall at last night's (Tuesday, August 25) POISON concert at USANA Amphitheatre in West Valley City, Utah after Dall reportedly became too ill to perform. According to the
Deseret News
, McDonald stepped up to the plate just 20 minutes before POISON was scheduled to go on stage. Rather than cancel their set, singer Bret Michaels said McDonald volunteered his services and took a crash course in learning several POISON songs.
The band was a little late getting on stage, and Michaels himself seemed to be fighting something as his voice wasn't as strong as it has been in previous Utah shows. Despite the shortened set list, ("Talk Dirty To Me" wasn't even played), the band still treated fans to favorites like "Fallen Angel," "Ride The Wind" "Every Rose Has Its Thorn" and "Nothin' But A Good Time". McDonald grew more at ease as the set went on, even taking a shot at backing vocals on "Unskinny Bop."
"There was no way we're ever canceling Salt Lake City," Michaels told the crowd with roaring approval, according to the Desert News.