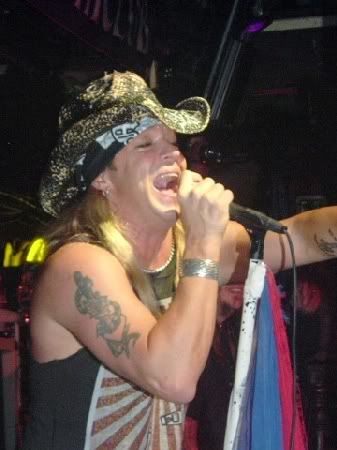 On Sunday night, March 22nd, Michaels and his band hit the stage at 10:30pm at the historic Pickle Barrel in Killington, Vermont and performed a 75 minute set that consisted of all the Poison hits, Rock Of Love hits, plus some of Bret's favorite covers songs. Big John was the MC for the evening and also announced that Bret's new autobiography Roses And Thorns: The Rock 'N' Roll Fantasy To My Reality (Simon & Schuster) will be released on June 23rd.
Bret's solo bands consist of Pete Evick on guitar, Robi Wylde on keyboards, and Dirty Ray on bass, and Lucky Chucky on drums. Highlight of the evening included 'Something To Believe In', in which Bret played acoustic guitar and dedicated this song to our troops in Iraq and told the audience how the band spent a month over in Iraq, and to pray for all the men and women fighting for our freedom and to get home safely. The young audience responded greatly to the Rock of Love hits, and Bret commented, 'I want to thank all our fans for making the third season of Rock Of Love the #1 show on VH1. We have been returning to the Northeast for the past 20 years. This is our sixth show straight in a row tonight. We have a night off on Monday and return to the road Tuesday night, so we will be keeping the party going all night tonight. Poison will be touring with DEF LEPPARD and CHEAP TRICK this summer and returning to the area this summer. I hope everyone makes it out to the shows.'"
The setlist on the night was as follows: 'Talk Dirty To Me', 'Look What The Cat Dragged In', 'Go That Far', 'Knockin' On Heaven's Door' (BOB DYLAN), 'Sweet Home Alabama' (LYNYRD SKYNYRD), 'Bittersweet', 'Something To Believe In', 'Driven', 'Drift Away' (DOBIE GRAY), 'Every Rose Has It's Thorn', 'Unskinny Bop', 'Fallen Angel', 'Nothing But A Good Time'.