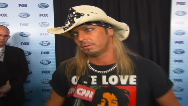 Bret Michaels performed live for the first time after a triple health crisis on last night's (Wednesday, May 26) "American Idol" finale. He joined talent show finalist Casey James for a rendition of the POISON classic "Every Rose Has Its Thorn".
After the show, Michaels spoke to the media at the "American Idol" press conference.
"I just wanna say, I needed to be here and do this," he said. "It's been two months since I played, it's been a month and a half in the hospital and it was just such an amazing feeling to come out there tonight and jam with Casey. Casey's such a great guitar player.
"I didn't tell the doctors I was gonna do this," he continued. "I told 'em I was going to do 'Celebrity Apprentice', the finale ... but I feel great, I gotta be honest. There's still obviously a lot of things, a lot of pain I'm still experiencing, but except for a little, as they say, a little 'hitch in your giddy-up,' ... I feel amazing."
So what's next? "The plan is on Friday I'm going to attempt to go do a show in Biloxi and I'm gonna see how that goes. I'll just take a few shows at a time," says Bret.
How has his outlook on life changed since his health problems? "The outlook on life... I always thought I enjoyed every day, but now I know I enjoy every day. Every minute here is awesome."
http://bit.ly/a1ixKz