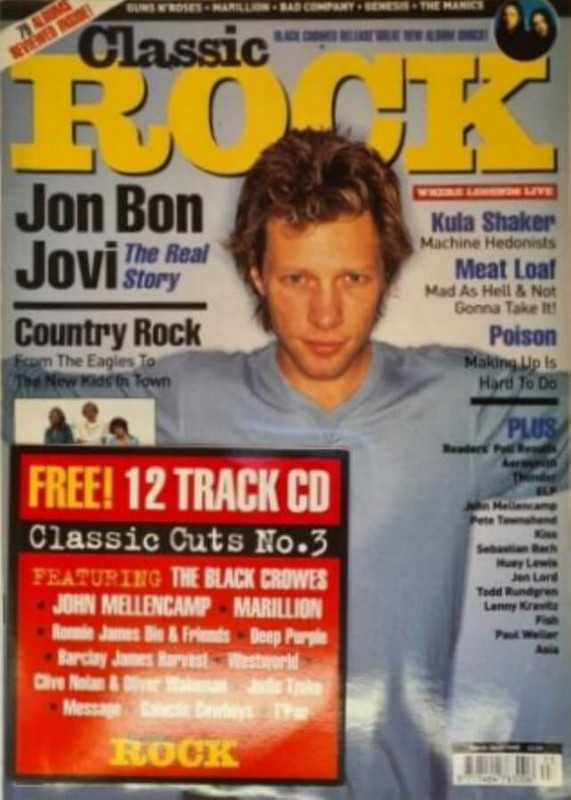 Classic Rock Magazine
conducted an interview with Bret Michaels (page 52, March 1999) where he speaks for the first time about the "Substance Egos" that ripped the band apart, and promises that, "The next chapter's starting now!". A few excerpts follow below.
After nearly two years on tour, Poison looked to be at the peak of their creative and commercial powers. Their third album, 1990's 'Flesh & Blood; had elicited five hit singles in the US - including the frothy 'Unskinny Bop' and the brooding 'Something To Believe In' - and its subsequent 20-month long world tour had made them headline news in influential American magazine Time as the men behind one of the longest-serving and biggest- grossing tours ever. In less than two years on the road, Poison had generated approximately $45 million.
So why, in the autumn of 1992, at the tail-end of the tour, and just after the band had made an appearance at the MTV Music Awards, were vocalist Bret Michaels and guitarist CC Deville embroiled in a bloody fist fight in the foyer of New Orleans' Meridian hotel?
At 35, Bret Michaels (real name, Bret Michael Sychak), is a much more considered man than the one you'd associate with a band whose videos went big on confetti-cannons and girls who couldn't keep their halter-tops on. Sitting in his suite at the Meridian hotel in London he is defiant, upbeat and more than happy to catalogue a litany of mishaps that clung doggedly to the coat-tails of his band's success.
"We were out on tour way too long; it was much too tough for us," he drawls, stretching out on his seat to look at the ceiling. "We were on the road from the beginning of 1990 up until the end of '92. We were just stir crazy and me and CC got into this huge fucking fight. We did a few more dates after that and tried to patch things up, but that was it.
"Then we took a break and [bassist] Bobby Dall went home to Florida and broke his fingers; he hit a tree with his car, and after that it all fragmented. CC and I couldn't iron out our seriously stupid small problems, which were being enhanced by our partying, and we'd both developed this thing I'll call our Substance Egos, which meant that everything became an argument. We were literally fighting over the fact that his guitar was too loud onstage for me to hear myself sing. We were always arguing over that. I wish I could tell you it was something more exciting. But it was enhanced by all the drug paranoia, all that shit... you know where I'm coming from."
Bret Michaels was 14 when he first made money playing in a band. He was living in a suburb of Pittsburgh, Pennsylvania called Harrisburg, he spent his days listening to Kiss and the nights covering their songs with his band Lazer.
"The logo was exactly the same as the Kiss one." He grins, making the shape of their familiar SS motif in the air with his fingers.
By the time he was 16, he'd formed a bar band called Spectres. Then, a year later, he began to write original material and changed their name to Paris. By then he'd met Richard Ream - future Poison drummer, Rikki Rockett - in high school, and a bass player called Harry Kuykendall (Bobby Dall). Their guitarist was a local guy called Matt Koko Smith.They initially performed Pennsylvania bar circuit was willing to pay to hear original material. Consequently, by the spring of 1984 a frustrated Paris decided to move to the West Coast to pursue a record deal.
"We thought we'd move out there and get signed straight away because we were this sickest, glammiest band with this amazing show.
The night before we left we hired out the Fishing Creek Community Building in Harrisburg, which holds 600 people. We sold kegs of beer and we're in there trying to put on a show like Kiss. We taped it on Beta - we'll put out the bootleg one day. We had pyros, explosions - the crew had these cheap fire extinguishers, just in case. It'd be, boom and all this shit would fly out every- where. It was hilarious! We finished that show, went home, showered and got straight in the van at six in the morning and headed west."
Five days later, as the sun was setting over LA, Paris drove into town as a band called Poison.
For the next two-and-a-half years, before they signed a deal, they lived out at the back of a dry cleaners on Washington and Palm Grove Avenue, in downtown Los Angeles. The cheap side of town.
"I was doing a radio show a couple of years ago and this guy calls up and says his mom used to own the dry cleaners that we lived behind!"
laughs Bret. "He was like, 'I don't know how you guys survived behind there, you didn't even have running water!' We actually had this one big pipe up on the wall that you turned on and it just poured hot or cold - you didn't know until you got under there. We had a little stove and a refrigerator that we'd bought and that was it, that was how we lived.
"People think that we'd planned it all somehow, but nothing was really thought out. We had those infamous green and black Poison logo colours, because they were the only flyers we could afford to buy.This printing company called Mr Speedy had a glut of lime-green ones that none of the businesses in LA wanted so we took them. We'd just be rehearsing and handing out flyers outside of the clubs that we couldn't afford to get into.
"I'd be on one corner and there'd be Ax) Rose on the other. He'd be like, 'Come and see us, we're called Hollywood Rose,' and I'd be inviting him to do the same."
It was partly adventure and partly endurance, but nothing seemed impossible until their then guitarist, Matt Smith, announced that he was making the long journey home to Harrisburg.
"Matt left when his girlfriend got pregnant. She couldn't live out in LA, it just wasn't a safe envi- ronment for a child, so he moved back. I remem- ber we played The Troubadour and after that gig he left us a note saying, 'I'm sorry, I love you, I hope you make it, but this isn't the life for me.
I can't support my wife or my kid.' He went his way and we went ours."
Their advert for a new guitarist drew over 100 replies,which were eventually narrowed down to three: Steve Silver, who had played with the Joe Perry Project; Bruce Anthony Johan- nesson, who had been the guitarist with Roxx Regime (who would subsequent- ly morph into God- squadders Stryper) and had since changed his name to CC Devine; and a certain top- hatted gent going by the name of Slash.
"Sure, we laugh about it now, but I really wanted Slash in the band," says Bret."Bobby and Rikki wanted CC, but I was in Slash's corner; this guy's got more gear, that sort of thing. But Slash wanted to be in a five- piece band and we just wanted to do this four- piece thing. And the one thing that tipped it was that CC had already written the hook and melody to 'Talk Dirty To Me: and it was so catchy. It was the first thing he played us in rehearsal and we never looked back."
In 1986, Poison, by then an impressive live draw on the LA club scene, finally clinched a deal with Enigma Records. They were given a paltry $23,000 and just 12 days in the studio to record their debut album. 'Look What The Cat Dragged In released the same year, exceeded all expecta- tions, scoring three Top 10 hits in the US - 'Talk Dirty To me', 'I Want Action' and 'I Won't Forget You It sold over two million copies.
Their garishly coloured glam-pop and feverish party promo videos reflected the feel-good factor of a country thriving on a late-'80s finan- cial boom, and in a very surreal way, Poison were playing out as the zeitgeist of their generation.
1988's follow up, 'Open Up And Say... Ahh!' cemented their reputation, selling over five million copies in America alone and becoming their first major chart success in Britain. The single,'Every Rose Has Its Thorn; was written in a laundromat in Dallas and became a genuine international smash. Love 'em or hate 'em, suddenly everybody had an opinion on Poison.
There was a party going on in the '80s and Poison were close to its heart and soul.
But by the start of the '90s the party was fading and the hangover had begun. 1990's 'Flesh & Blood' showed no sign of their success abating - they'd long given up on being a critical success - but the constant sniping at the band about their inability as players combined with lurid paranoia and an ever-escalating fascination with drugs was to ensure that sending the band out on a worldwide tour for two years was never going to end in anything more than mascara- streaked tears.
At the time, unsubstantiated rumours suggested that CC's Hollywood home had at least one room set aside to chemically process cocaine, and that his fascination with automatic weapons meant that the house was littered with machine guns. But despite such allegations, one fact remains: by the end of the 'Flesh & Blood' tour, Deville was no longer with the band.
Michaels hand-picked guitarist Richie Kotzen to play on 1993's 'Native Tongue' album; a bluesy- sounding record that, in relative terms, flopped commercially. Kotzen played his first show with the band in front of 12,000 people in Santiago, Chile, but it quickly became obvious that he didn't fit in. Michaels alleges that as soon as Kotzen had finished touring with the band, he'd immediately tried to secure himself a solo deal with Geffen Records, while whispers intimated that he'd been caught sleeping with one of the band's girlfriends. Whatever the reasons or reasoning, Kotzen was out and the future of Poison was thrown into turmoil again.
But worse was to follow. In the spring of 1994, when Michaels was at the height of what he dryly refers to now as his, "beautiful partying phase", he drove home drunk one night from LA rock star hang-out The Rainbow, hit a telephone pole and almost killed himself.
"I lost all of my teeth in the top, split my head open, broke my nose, my thumb, had stitches in my knee... I was in hospital for a while and then, weirdly enough, CC called me. He'd been out of the band for about two-and-a-half years at that point. We spoke for a while, but he was still in no shape to come back to the band."
The singer's broken bones would mend, but the self-inflicted wounds the guitarist had suffered would take longer to heal.
"CC didn't really clean up until the beginning of 1997," Michaels reveals."He had what they call a 'substance heart attack' and was rushed into hospital. After he came out of there he never went home again.
"He moved into a hotel, sold his house to the President of New Line Cinema, Mike DeLuka, and moved to Newport Beach. He goes to a place there called a Substance Lifestyle Clinic every weekend and talks about how he's feeling, and now he's great again."
After Kotzen, another guitar ingenue, Blues Saraceno, briefly joined the band to record 1996's 'Crack A Smile' record - an album that would never be released. Gary Gersh had become President of Capitol Records - Poison's label - and was keen to give the label a newer 'alternative' image. Michaels recalls how Gersh told him he wouldn't release the new Poison album unless CC was back in the band. And though the band had been in negotiations with CC about the possibility of his returning, Michaels felt that he couldn't push the issue just because Gersh said so.
"I told him that if CC came back it had to be for real, not for image or just because Capitol asked us to do it. He said fine, we'll release the 'Greatest Hits 1986-1996' album instead. Which they did, with two songs from 'Crack A Smile' - 'Sexual Thing' and 'Lay Your Body Down: "You can argue until you're blue in the face about it, but they'd signed the Foo Fighters and Everclear and that was the way they wanted to go," Michaels maintains.
By the time you read this, it will have been nearly 15 years since Poison found their way into that dry-cleaning warehouse in LA. Throughout that time, two of them almost died, they became one of the biggest-grossing live acts in the world and managed to sell in excess of 20 million albums.
There's currently a train of thought that insists those kind of hellbent glory days are around the next corner. The Kiss reunion shows in the US last year became the biggest tour of 1998. Bands such as the Goo Goo Dolls and Green Day have cited Poison as an influence, while Smashing Pumpkins' Billy Corgan consistently raves to a bemused press that Cheap Trick are one of the greatest bands of all time. Nothing but a good time, you might say, for a Poison reunion.
For his part, Bret Michaels may revere the past, but he certainly doesn't want to live there.
"I think there may be a hard rock underground, I don't know if this time it'll be as big. It may be bigger, but I don't want to keep saying, 'Remember when?' I want to bring that music up to 1999 with me.
"Things will get better now, I think that Poison's going to have a great second half to our career.
The next chapter's starting now."
He was smiling as he said it.