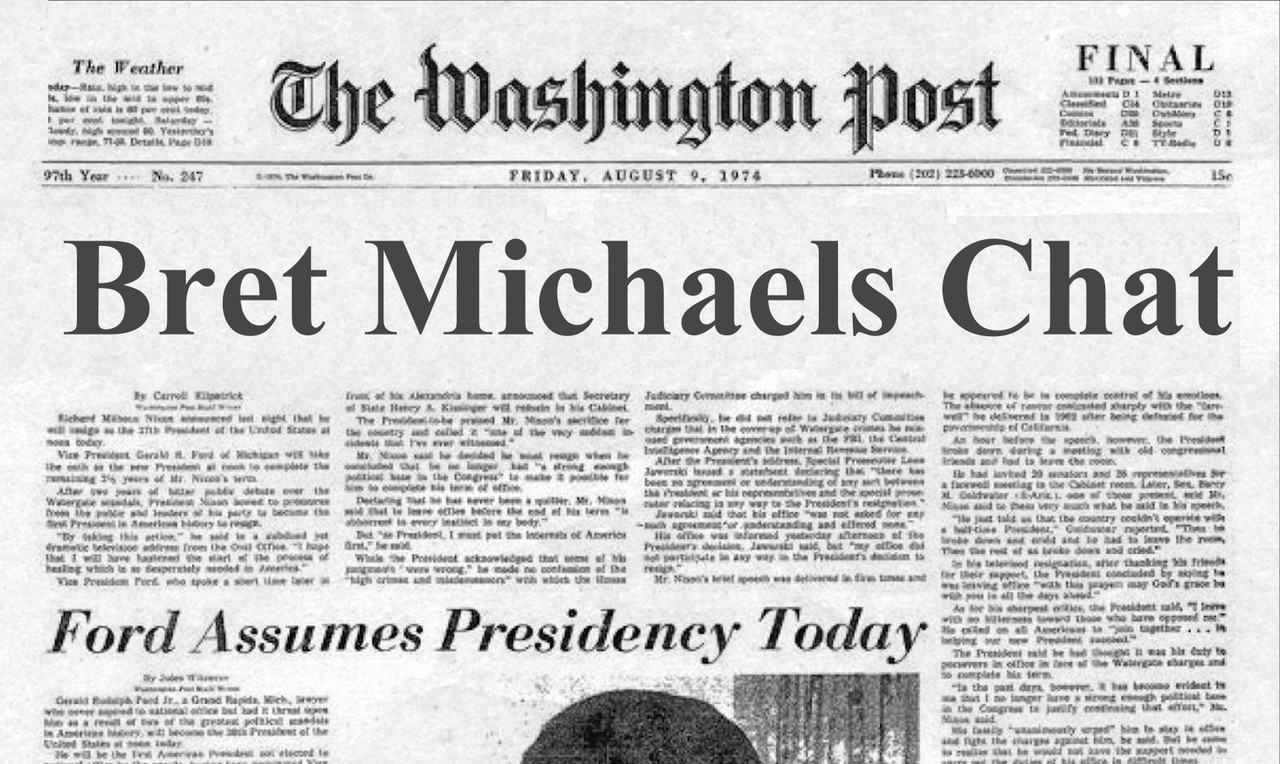 Bret Michaels
was online
Tuesday, July 24 at Noon ET.
A transcript follows.
---
Manassas Park, Va.: Hey Bret. Some folks may be surprised to know that you actually use members of a local Washington D.C. area band, Evick, as your solo band when on the road. How did you hook up with them?
Bret Michaels: Hey there, Manassas Park. Those guys are from Manassas; you must know them.
Pete and the guys opened up for me the first two years I went out Solo. We all got to be buddies and we connected. I asked them to do a few shows and it all worked out, so now we are the BMB.
---
High Point, N.C.: Will you be doing a "meet and greet" on your solo tour this fall?
Bret Michaels: Ya know, I try to meet everyone. Over the years I have stood outside the bus in the pouring rain, sleet and snow to meet the fans. With the Solo tours, we sometimes have long distances to travel between gigs and many other obstacles that come with doing those kind of tours. I will always do my best but can never make any promises.
---
Manning, S.C.: I was wondering how hard has it been being a diabetic while being on the road, and how long did it take you to get used to it? I'm asking this because my mom is diabetic and I know how hard it can be to deal with at times. Hope you and the rest of Poison come back to South Carolina -- your concert in Myrtle Beach was awesome.
Bret Michaels: Thanks. I am not sure that you ever "get used to it." There has to be balance. That isn't always easy on the road. I check my blood sugar at least 6 to 8 times a day and try to watch what I eat. We also carry workout equipment with us and I usually work out for about 2 hours a day when I can. We have also built in two breaks into our set so I can check my blood sugar while we are on stage. We keep orange juice and honey backstage as well, so if I start to go low during the show I can bring it back up.
---
Centreville, Va.: Bret, what would you say is the biggest difference between performing now and 20 years ago when you all first got started?
Bret Michaels: Well the obvious answer to that question is that we used to play to half-full clubs, and now we play to sold out amphitheaters.
The fact is that we play better now; we are sober and have learned to be thankful for what we have been given.
To see those faces and hear the crowd every night ... as an adult doing it because you want to do it, not because you are trying to survive ... is a real gift. We were running around like chickens with our heads cut off 20 years ago, seeing and doing it all for the first time, Now we can breathe in and watch it all happen through our own eyes instead of reading about it in the papers and magazines.
---
Mineral Ridge, Ohio: Bret, how hard was it for you to make the decisions on which girls to eliminate on each show?
Bret Michaels: It was really hard especially in the beginning. I didn't want to just eliminate people but at the same time I had to. At first, it was really who stood out right away and who didn't.
---
Fresno, Calif.: Do you think the rock 'n' roll lifestyle contributes to relationship issues, or do you think that musicians are, sort of by default, prone to relationship problems even if they are not mega stars touring the world and enticed by droves of women?
Bret Michaels: Most definitely. I know that music is certainly my mistress, so to speak. It is part of everything that I do and has become a very integral part of who I am and my day-to-day life. If I get an idea for a song, I have to work on it right then no matter what I am doing. Sometimes that isn't always understood.
---
Laguna Hills, Calif.: Will we see new material from you in the near future with the band and also with other artists as well?
Bret Michaels: Well we just released "POISON'D" which is new material for us. I think going back and recording some of the covers (that we played back in the clubs on the east coast when we were starting out) helped us get in touch with who we were and who we are. It should lead to being able to create a great new Poison record in the future. As far as solo stuff, I am constantly writing and recording. We have a studio on the bus and there is gonna be a new solo album out in the fall called "Custom Built."
---
Buffalo, N.Y.: How does it feel playing to a multi-generational crowd? I can tell you from a fan prospective that it is a little wild to see people there with their kids and or parents.
Bret Michaels: It is great seeing all of the young people in our audience. It is nice knowing that our music has stood the test of time with our fans, and that their kids are getting into it too. It is just good time rock and roll. Any age can enjoy it.
---
Fairfax, Va.: I've watched your new show the last couple of weeks and those women are nuts! Are they really as crazy as they seem, or is it all an act?
Bret Michaels: They really are that crazy.
---
Easton, Mass.: Hi Bret,
How do you handle being away from your daughters for so long? Do you ever bring them on the road with you?
Bret Michaels: Any man would be a liar if he said he didnt miss his children when he's gone as long as I am. I do fly them in every couple weeks and spend a few days with them. My daughters are the most important thing to me; please don't ever mistake that.
---
Midland, Mich.: How do you feel that music you made in the '80s is still so awesome today? "Nothin' But A Good Time" is going to be on Guitar Hero, and that game is sweet!
Bret Michaels: We have always made music that we wanted to make. We never listened to people who would tell us that we could and couldn't do musically. Basically, we never faked it. We still enjoy playing live, making music and touring. It is something we all love and I think that comes through in the music that we make.
---
Gaithersburg, Md.: Which type of venue do you prefer, large amphitheaters or the more intimate setting of a club?
Bret Michaels: Anyone would be a fool to say that don't enjoy the sight and sound of a full amphitheater, and that's why we do it. Going solo and doing some smaller clubs is a great way to get in touch with some of the die hard fans that have been part of this with us for 21 years. Playing the small venues helps show the fans that as a Solo Act or with Poison, there is a substance to the music and its not just a bunch of pyro and lights. So, both situations are equally fun and exciting at this point in our careers.
---
SEMO Missouri: Bret, with the 8/2 show at Verizon Wireless in St. Louis being filmed live for HD Net, do you expect this to be the biggest show of all the shows you've done there?
And thank you for all the support you have given to the U.S. Troops. I hope to attend that show and tell you thank you myself, as a 1st Sgt with the Mo. National Guard. My friends and I are still hoping to find some me tickets to attend my first ever POISON show. Thanks.
Bret Michaels: The biggest Thanks has to go out to the troops who are out there fighting for our freedom! Thank you all.
The HD Net shoot in St. Louis is going to be totally off the hook. We are bringing extra lights so we can see the whole crowd, and have an awesome camera crew that will be filming everything that day from the parking lot, to backstage, to the live show. The whole band is really looking forward to it. I am not sure if there are still tickets left but if there are you definitely should pick them up. Like I said, it is going to be insane.
---
Downtown D.C.: Hi Bret, is there one song that you/the band hate to play now, but feel you have to and why? Also, is there a song that you particularly love to play and hold dear?
Bret Michaels: To be honest, we love all the songs we play live. We have a large enough catalogue so that we could play something else if there was a song we didn't like. Many of what we put in the set are hits, and every time we play any of those songs it reminds us how fortunate we are to have lasted 21 years. Each of those songs is forever a part of our lives. As far as one that I hold dear, "Something To Believe In" is always an emotional one for me. It deals with the war, the loss of friends and just how bad life can be. It serves as a reminder of how life can hand you a bad card sometimes. Every night, I dedicate it to the troops in Iraq and hope that it helps someone in that audience every night to know that we are thinking about those people in bad places and in less fortunate situations.
---
Philadelphia, Pa.: If you weren't in Poison, what else might you have done in life, and perhaps may someday do?
Bret Michaels: Well, music has always been my life, way before I had the success. So to be honest, if I hadn't made it in Poison I would be in some sort of local cover band wherever I ended up living. I probably would be poor for trying, but I would have been able to give it up. To this day, if I walk into a bar, I end up getting up with the band. It never fails; it's what I will always do.
---
Washington, D.C.: Where are you doing this chat from?
Bret Michaels: We are actually in New York today at Jones Beach. We play at Jones Beach tonight and then do a radio show tomorrow night for WPLJ (Wednesday) at the China Club downtown.
---
Saugerties, N.Y.: Bret,
What are some inspirations for your writing? I know your song "Ride The Wind" is dedicated to the military. What prompted you to pen that song?
Bret Michaels: Every single day life is my inspiration.
I try to write about the real world we live in.
Some days (to me) are a crazy rock and roll party and you will get a song like "Nothing But A Good Time."Sometimes, I watch the TV and see all the terrible things that surround us and am inspired to write a "Something To Believe In."
Some days, I miss my daughters and that's where you get songs like "Raine."
I never sit down and say, "Let's write a song about WAR, or WOMEN." It's where my mind and mood are at the moment that lead me to write whatever it is that comes out.
---
Troupsburg, N.Y.: Did you find your true love on the show?
Bret Michaels: I can't give away the ending to the show so I can't really say, but I can say that I did find something. It has a very non-Hollywood ending. You really have to watch to see how the show progresses.
---
Gardner, Kan.: With the longevity you've had in your career, are you to the point where you would be willing to help new artists break into the business and get their feet wet, or have you already started doing that?
Bret Michaels: I have always been involved with other artists.
The last couple years, Poison has brought out killer young bands to play the first spot. This year we have "Veins of Jenna" who are amazing. On the Solo tours, I often hand pick the openers to give them a little extra exposure.
Over the years I have produced and written with other bands. Recently, I produced a county act called "45 South" that has killer songs and great energy.
So yeah, I am always involved in trying to help out new talent. After 21 years, it's kinda your responsibility to try to help pass the torch.
---
Chicago, Ill.: Considering everyone in the band has their independent projects, how do you keep unity in the group to ensure that Poison continues to go strong as a group?
Bret Michaels: That's easy.
While we are all into our own things, we never lose sight of what got us here and gave us the ability to pursue all our own things. Poison is the vehicle that provided us with everything we have today, and we are eternally grateful to each other; that's what keeps the bond strong, even through the fist fights.
---
Pentagon: Did you and Flav sit down prior to your taping the show so he can give you some pointers on what to expect and how to pick your girls?
Bret Michaels: Flav and I have never discussed the shows with each other. While the idea of my show seems similar, you will see that it takes on a new twist. In my show, the girls are eliminated due to their performances in the tasks to come. It's more like "Fear Factor" meets "Flavor Of Love." So, there was really no reason to discuss anything with Flav. But I'm sure we could go on for hours with each other about how and why we did what we did.
---
Los Angeles, Calif.: What was it like to be back in the studio with the band to record all of the songs for "Poison'd!"? How's the tour going? Rock On, Bret -- we love you!
Bret Michaels: It was great getting back into the studio with the band. We had a great time making the record. We are playing several songs from the album live including "What I Like About You." This is the biggest show we have taken out so far. You don't want to miss the show in Los Angeles, August 11th at Gibson Amphitheater.
---
Chicago, Ill.: Hey Bret, I can't help but find "Rock of Love" as being totally and utterly hilarious. Do you find humor in the show, as well and did you have moments when you found it hard to keep a straight face? Any particular thing that blew your mind? That being said, I'm glued to it and can't wait to see what happens. Thanks.
Bret Michaels: I'm glad you saw the humor in it. It was actually very important to me that everyone saw the humor in it; it was a side of me I have never really shown, and am looking forward to having my fans get to see it.
So much of it blew my mind. These woman were great and to see the things they would do to compete and win in the upcoming challenges was amazing. Keep watching -- it gets better and better.
---
Queens, N.Y.: How come we NEVER see you without your bandana on your head? What's going on under there?
Bret Michaels: Actually in the second episode of "Rock Of Love," I spend most of the show with no hat or bandana. Check it out.
Nothing to hide; it has just become my thing over the years.
---
Rockin out in D.C. : How hard is it to still tour and sing the same songs over and over again?
Bret Michaels: We genuinely enjoy what we do and the music that we play. I don't think that we would still be playing live or touring if we were bored or tired of any part of it.
---
Kinnelon, N.J.: Do you think that with all the music being pretty much computerized and people not really playing live instruments, rock as everyone knew it is over?
Bret Michaels: Ya know, first of all, Poison has always played everything live and still do. Just the other night, we blew the power on the entire stage due to the massive volume levels we still use. As far as recording, to be honest with you, there is a misconception about how all that works. While Protools is a computer based recording platform, you still have to play, it just stores the information digitally. If you hear a guitar, drum or vocal, someone had to put it there. Even if you are using loops or pre-made samples, someone made that clip of music at some point. And there is an enormous uprise in acoustic music over the years. You can sample and loop that stuff.
If anything, the digital realm has provided tools so professionals can make records easier and faster. We have a Protools rig on the bus, and it is an amazing way to get your ideas done on the spot and have it sound like a record right from the start.
So really, the musicians don't suffer at all. If anything, it's putting engineers and producers in a rough spot because it has given the freedom back to the artist, who in turn, is helping let the world hear a lot more rock and roll the way the artist intended it to be heard.
---
Washington, D.C.: Can you give us a teaser of how "Rock of Love" will end?
Bret Michaels: It is a very non-Hollywood ending to the show. You really have to watch the whole show to see how it progresses.