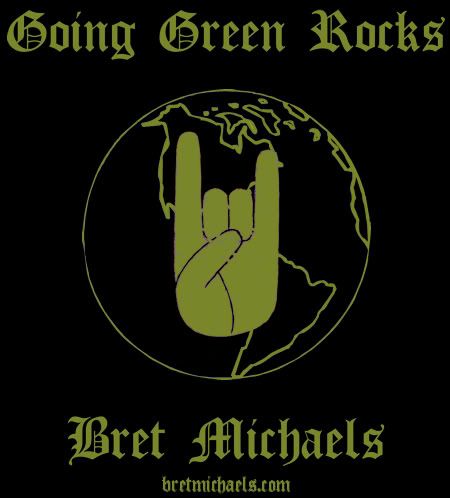 BRET MICHAELS' website has issued the following update:
Celebrate Earth Day every day with Bret Michaels Going Green Rocks T-Shirts and Reusable Bags! They are available at a special price for a limited time!
Plastic bags leave a harmful impact on planet Earth, our reusable bags are an easy way to do a small thing that over time will have a big impact. Reusable bags are the ultimate multi-taskers, too. They are great for all kinds of shopping and make great travel totes in the car for snacks, books, toys, necessities and more. Our Going Green Rocks bags are a roomy 12-inches tall by 16-inches wide by 6-inches deep and can hold two gallons of milk and still have room for more.
Our Going Green Rocks Tee is the perfect compliment to the reusable bags. Available in sizes small through 3XL, our Going Green artwork is on the front in a bright green and on the back is Bret Michaels across the shoulders.
Item 30010: Going Green Rocks Reusable Bag $6.00*
Item 30120-30125: Going Green Rocks T-Shirt $15.00*
*does not include shipping/handling charges.
Click the link above to visit the BM_Store.