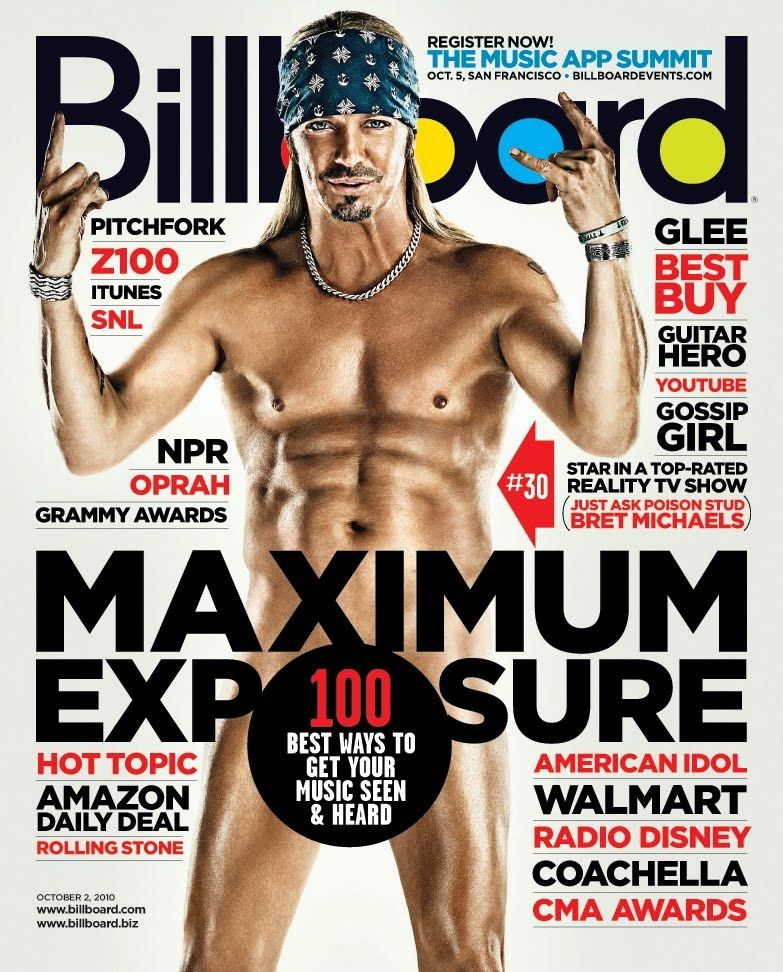 Check out the newest edition of Billboard magazine (Oct. 2, 2010 edition) with POISON singer Bret Michaels on the cover and a feature article on Bret called "Maximum Exposure." Bret Michaels landed at No. 30 on the list as the prime example of how starring in a cable TV reality show is one of the best ways for a musician to attain maximum exposure.
In this Q&A with Billboard Magazine, Bret talks about just how TV has been good to him:
How would you say your career was going when you decided to do your VH1 reality dating show, "Rock of Love"?
I thought it was going great, actually. Poison has continued to tour throughout our 25 years, give or take a few years off for drug rehab and fistfights. I was starting work on my first real solo album, and I'd finished being a judge on season three of "Nashville Star," which ended up as their highest-rated season.
So which part of "Rock of Love" was the real you, and which part wasn't?
All of it was the real me. I like to party, I like to have a good time, but everyone who watched knew that I was a down-to-earth guy who tried hard to be respectful of other people. The show never crossed a line.
Were you worried that "Rock of Love" could harm your music career?
I thought that I have three generations of Poison fans, and this would open me up to a whole new generation. My fears about the show weren't about music. I turned it down the first time they approached me, because their first idea was very retro. They wanted the 1986 Bret Michaels. My fans enjoyed the teased hair, the spandex. It was great, it was the time I lived in. Who knew that spandex tucked into cowboy boots would ever go out of style? But for some strange reason, it did. I'd progressed forward and I didn't want to go back. I stood up for myself and said, "You need to let me be who I am right now in my life."
How has reality TV affected your music career?
TV has absolutely made my sales go up, made my tour guarantees go up. TV has been a great addition to my career. But the key thing is knowing what to walk away from. I advise anyone-especially musicians-to be very careful not to just grab anything they throw your way.
What's the premise of your new show, "Life As I Know It"?
The narrative of the show is simple: It's an all-access backstage pass into my everyday life, about finding balance between my passion for my family, my relationship with [girlfriend] Kristi [Gibson] and being on the road. If you were to live with me for a couple months and go through all my emotions in a given day when I'm hands-on in my career, it is unbelievably mind-blowing.
Were you ever in talks with the "American Idol" execs to become a judge next season?
Yes. Not only was I in meetings with Fremantle, I made it to what they called the "top four." We also talked a little about Simon Cowell's new show, "X Factor," and they asked me about being the host of a dating show they're doing. But if there's someone else that would give great career advice and be a lot of fun on TV, it's Steven Tyler.
http://bit.ly/9DfCiJ
http://bit.ly/d2u8Sw
http://bit.ly/acDGpe