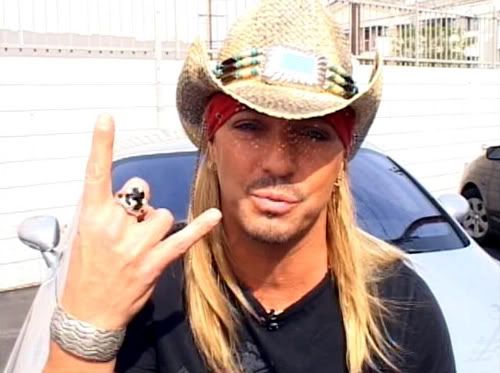 VH1 recently conducted an interview with Bret Michaels, he spokes about Eminem, his upcoming autobiography book and (a new season of) Rock of Love!
Asked about if this is the end of Rock of Love, Michaels said: "We?ll see what happens with Taya. If it works out, maybe I can become some sort of love adviser. If not, I?d love to come back and do it all again."
Have you seen the Eminem video? "I thought it was f***ing hilarious. He always does spoofs of people, and I think what he did was great. When you get into something like that, it?s like you?re being accepted into pop culture. Eminem is kind of like my younger, hotter, better-looking brother. That video kinda made me jealous (laughs)."
How about your book? "It comes out June 23, and the pre-orders have already blown away any other autobiography that Simon & Schuster has put out. The reason besides Rock of Love is that it?s 22 years of Poison and the solo career, and people know that when I tell my story it will be real."
Read the entire interview clicking the link above.