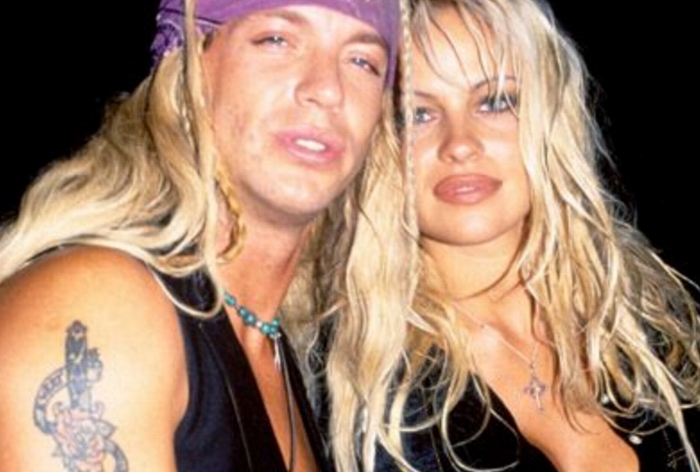 Source: Angela & Rose
Courtesy of Scott from Oregon, USA
BRET'S HARD COPY INTERVIEW 3-2-98
ANNOUNCER:
Now it wasn't that long ago that Rocker Bret Michaels was Pamela Lee's Main man,well tonight Bret breaks his silence about his years with Pam & Doug Bruckner (interviewer) says he's giving the blonde Bombshell some serious advice.
BRET:
We were very much in LOVE.
DOUG BRUCKNER:
They were one of the Hottest couples in Hollywood, long before Pam Anderson married Tommy Lee.
BRET:
It was a fun and a very,very,very sexual. She is a Beautiful,beautiful girl and at one point she wanted to be married and to have children and it's not what I wanted at that particular point in my life.
DOUG:
Speaking Exclusively to HARD COPY Bret Michael's Lead singer of the band POISON says he is very concerned about Pam now that Tommy's alleged violence has landed him in court and driven their marriage on the rocks.
BRET:
I genuinely hope that Pamela is OK. I hope that she does the right thing for herself and for her kids. I honestly hope that somewhere down the line that her and Tommy work things out.
DOUG:
Now Bret fears that Pamela's image is taking a beating.
BRET:
I think she is starting to believe her own press and that she has become a Blonde Bimbo Bombshell and I Think honestly that she is an intelligent girl and knows what's going on around her. She needs to step away from all these people
DOUG:
Incredibly Bret says he was prepared to bail Tommy Lee out, If He and Pamela would tell the truth about the sale of their sex tape.
BRET:
I was willing to post Tommy's Bail. If I could get a straight answer out of him and Pam on whether or not they really sold their tape and gave their rights to IEG
DOUG:
Bret has been battling the same company over the release of his sex tape with Pamela Lee.
BRET:
This tape was not done for people to view. It was done for us privately. It is an invasion our privacy and it is a very very sexual tape. It was Not meant to go out to the public. We have been fighting this for 2 years and I can not get an answer out of Pam or out of Tom why did they give these guys the rights to sale their tape in like Towering warehouses.
DOUG:
But Bret Michael's is refusing to let that battle dominate his life. While still performing with his band POISON, Bret is directing his second motion picture. Martin and Charlie Sheen agreed to star after they saw Bret's first film.
BRET:
Well,I used my money,and my financing, you know whatever and my script. I went down and did it.
DOUG:
Life is good for Bret these days. He is still living with Kristi Gibson, the woman he left Pamela for. He just wishes the same happiness for his former Love.
BRET:
I feel bad for what she is going through. I mean she is a very positive and spiritual gal and I just hope they work things out.