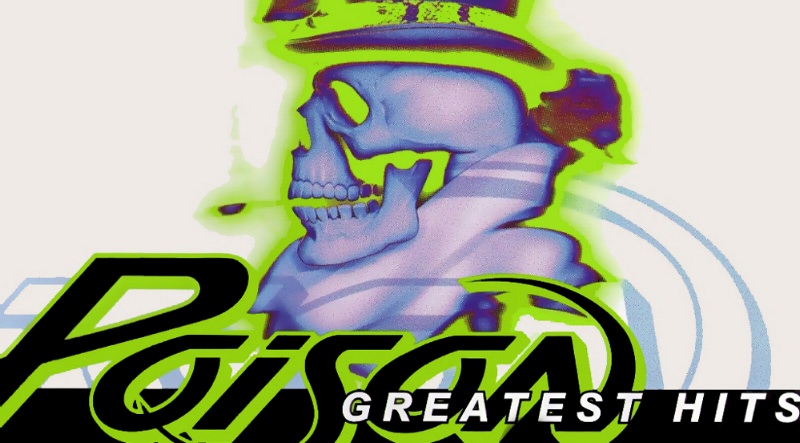 Track by track posted on
Capitol Record's website
.
Poison's Greatest Hits coming November 26th to stores everywhere!
Nothin' But A Good Time -- The song title says it all. The lyrics symbolize a part of our lives. Poison felt that the endless touring, relentless promotion, hard work, determination and a desire to take our music and our incredible live show to the big stage was finally paying off. Musically, C.C. added life to this riff from a song called Rock and Roll Bandit that Bobby, Rikki, and I wrote together before we met C.C. The song is simple and straight to the point-- it is about energy and attitude. This song is, hands down, my favorite song to play live.
Talk Dirty To Me -- This rock anthem was the song that put C.C. in the band and Poison on the map. C.C. showed up at our rehearsal and refused to play the songs we had given him to learn and instead started playing this guitar riff. I was really pissed off at his cocky attitude and walked out of the rehearsal room. However, Rikki and Bobby kept jamming with C.C. anyway. Since I didn't have a car and with nowhere to go I just sat on a street corner listening to the song over and over until eventually I fell in love with it. C.C. had most of the lyrics and music complete, but as the singer I felt I needed to add my two cents worth (just to feel important). The rest is history.
Unskinny Bop -- This song was a freak of nature and never intended to be a Poison hit. I give Bobby and Rikki a lot of credit for this song because they came up with the awesome groove. As for the guitar riff, C.C. walked into the rehearsal hall with a famous porno star in tow. He plugged in his amp and just started jamming (C.C. has an amazing ability to pick up on music ideas and create great guitar riffs out of them). I immediately tried to grab her attention by singing some real sexual lyrics, which eventually led to UNSKINNY BOP. My singing never grabbed her attention but the tongue-in-cheek sexual driven lyrics, which were written in a matter of minutes, spawned the first single of our Flesh & Blood album.
Every Rose Has Its Thorn -- Believe it or not, in 1988 (the day and age of power ballads), Poison was told by several music industry executives that an acoustic ballad would never be a hit. HMO? No song Poison has ever written best describes an exact point in my life as this one. I wrote this song the summer of '86 in a laundry mat at a Dallas, Texas motel. We were on the road playing night clubs in support of Look What The Cat Dragged In. To me, the "rose" symbolized the fact that my dreams of recording an album and touring had come true. The "thorn" however, came when a friend from Los Angeles called to tell me that my girlfriend at the time, (who shall remain nameless), was seeing a musician from a then famous band, (who shall also remain nameless) because he had more money than me and a nicer car. Their meaningless relationship didn't last, however, the song did and went straight to #1 for eight weeks in a row! It is strange how such a depressing incident can inspire such a successful song.
Fallen Angel -- No song by Poison steps into the Hollywood lifestyle better than this one. It is "mind blowing" to witness everything that goes on behind the glitter, glitz, and closed doors of tinsel town. It was sad for me to see a friend of ours go from being such a strong person to becoming a lost soul in such a short period of time.
I Won't Forget You -- On March 6th, 1984, we left Harrisburg Pennsylvania to move to Hollywood, CA. For Bobby, Rikki and myself the lyrics to this song were the message to the girlfriends, friends, and families that we left behind in order to pursue our dreams.
Stand -- This was the first single we released with guitarist Richie Kotzen. I feel this song was a very "ballsy" move for Poison by adding the First A.M.E. Church Choir from South Central Los Angeles, especially after the riots of '92. The choir really adds magic to the song and the lyrics give a powerful message for people who truly need to voice their oppression. Even though Native Tongue is a bluesy album and very well written, the chemistry with Richie did not work both professionally and personally.
Ride The Wind -- Bobby, Rikki, and C.C. really did and awesome job of writing the music for this song, and as usual I wrote the lyrics. Being an avid motorcycle enthusiast I felt the need to write about the loyalty, lifestyle, and freedom that the people who ride motorcycles experience.
Look What The Cat Dragged In -- This song was never released as a single but it truly expresses the life we were leading at the time. It was also the opening song for our live show so we felt the need to include it in this collection.
I Want Action -- This song was purely written out of sexual frustration about the lovely women that ruled the Sunset Strip in Hollywood, circa 1985. So many, so beautiful, wearing so little. I wanted them all, what can I say?
Life Goes On -- C.C. brought this beautiful song to the band, then Rikki and Bobby added their magic to it. As for the lyrics, I wrote them about a girlfriend of C.C.'s who was shot and killed in a bar fight in Palm Springs, CA. C.C. was really hurting inside, especially after the loss of Kimo (our security guard), who also passed away in Palm Springs. This song is about trying to find the light at the end of the tunnel, which at the time seemed very dim.
(Flesh & Blood) Sacrifice -- Musically, the guitar riff was brought to the band by C.C. And was fine tuned by Rikki, Bobby and myself. As for the lyrics, at the time I was heavily into reading horror books, especially about Dracula. The song is based on a fantasy. It is about the love between a man and a woman who spend eternity together.
Cry Tough -- This song was Poison's first single. The lyrics were written as a creed for us to believe in so we would not lose hope during the bleak times in the early days. In April of '86, at the time this song was released, Music Connection Magazine voted Poison "L.A.'s Most Popular And Best Live Band." The video was filmed over two nights at The Palace in Hollywood, CA. This video captures the unbelievable energy, theatrics, stage diving antics, attitude and vibe that only Poison can deliver. I'll never forget the excitement Bobby, Rikki, C.C. and I felt as we arrived at The Palace in Bobby's sky-blue Chevette and read "Poison-Sold Out" on the marquee. The band felt larger than life, a feeling that could never be duplicated. P.S. Not long after the show, the Chevette was impounded and the single bombed-- but that is a whole other story.
Your Mama Don't Dance -- This remake is a song that Rikki and I used to perform in a band called Spectres. Ahh, the fond memories it brings back of playing at The Rugue's Den in York, PA. I remember there were three people in the audience who were telling us to turn it down so they could place an order with their waitress. The bar owner eventually payed us $200 not to play because we were too loud and he kept losing customers. Years later, Rikki and I pitched the song to C.C. and Bobby. It quickly became one of our favorite songs to play live. As fate would have it, Bobby got arrested in Nashville, TN while shooting this video. For more information refer to the Sight For Soar Ears video collection.
So Tell Me Why -- This is one of the four studio songs recorded as a bonus track for the Swallow This Live album. This song was written in Rikki's home studio and was produced by Poison. By the time we released the single C.C. and Poison had parted ways.
Something To Believe In -- This is the most difficult song I have ever written. Unfortunately, it was inspired by the death of a great friend, Kimo. He was our security guard whom I spent day in and day out with for many years on the road. I remember receiving the phone calls while I was staying at my mother's house during Christmas. I stayed up all night long writing this song. It was the only release I had at the time to keep me from going crazy. I would gladly give up this song in a second to have Kimo back.
Sexual Thing -- There's a funny story behind this song. While rehearsing in Florida with guitarist Blues Saraceno, I had the title Sexual Thing stuck in my mind for quite some time. Every song that we wrote musically I would call Sexual Thing. Bobby finally snapped and told me to pick ONE song to be titled Sexual Thing. It was frustrating because none of the songs had quite the "sexual groove" I was looking for. I finally came up with this awesome guitar riff and played it for Blues late one night. I then forced Rikki and Bobby to get out of bed to help me finish the song. They agreed knowing they would never have to hear the title Sexual Thing ever again. This proves that some of the best songs come from sheer energy, spontaneity and the ability to drive your band mates so insane that they will eventually give you your way.
Lay Your Body Down -- Rikki, Bobby, and Blues did a great job of putting this song together. In the studio they tailored the song to fit the mood of the lyrics, which at the time painted a piece of my love life. It's an amazing feeling to be able to create the sound of the music to fit the emotion of the lyric. As a song writer, you hope that people can relate to your music and when that happens it makes for a truly great song.
On behalf of Bobby, Rikki, C.C., Richie, Blues and myself, thanks for taking the time to listen to the music
--Bret Michaels