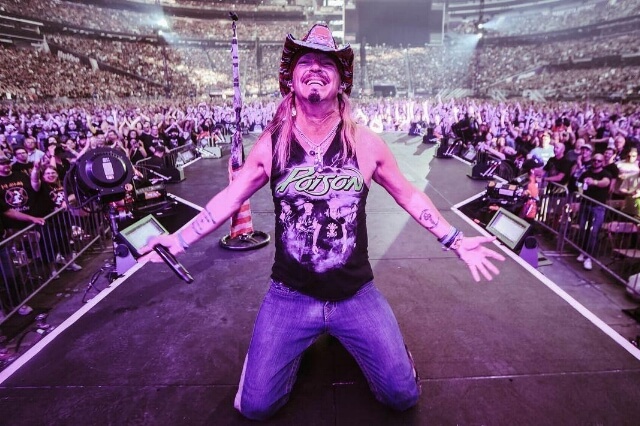 In a new interview with
Arizona Republic
, Bret Michaels admitted that he isn't necessarily in a rush to get back in the studio and make another POISON album.
In addition to rocking the Stadium Tour with Poison, Michaels has filled in the gaps in his schedule with solo performances.
"I just like being active. Smart musicians take a day off. I'm like, 'That'd be a great day. We can get to Minneapolis, do the Moondance Festival and get back in time to play the next stadium date."
As for Poison, Michaels says they're in a good place as bandmates and friends.
"Here's the truth," he says. "We always get along great.
"No one has ever made me laugh harder or been through as much as we've been through together, from the ground up. I'm talking the basement, sump-pump water on the floor. We're definitely four uniquely different personalities. But on that stage, it's electric."
When Michaels says they "always" get along great, he's not counting the 1% of the time it all goes straight to hell.
"When it goes bad, it goes straight to a fistfight," Michaels says. "It's like, 'What'd you say?! Oh, yeah?!' And the next thing you know, it's a bar fight on the tour bus or backstage. Then the next day we're playing on stage together and I'm like, 'I'm sorry I knocked your tooth out.' They're like, 'Yeah, I'm sorry I hit you in the gut.'"
That potential for a fistfight may be part of the appeal of seeing Poison live, Michaels adds with a laugh.
"Hell, me and Bobby got in a fistfight on stage. Me and C.C. at the MTV awards. I think half the time, people who come to Poison, they're like, 'Wait, good tunes I can sing along to, good pyro and occasionally a prize fight? You get your money's worth.'
It's been 20 years since "Hollyweird," their latest album of original material. And Michaels isn't necessarily eager to get back in the studio and make another album. What he would be into, though, is adding one more classic single to the repertoire
"I know I could get outvoted on this," Michaels says. "But I said, 'Guys, I beg you. Let's just write a straight-up rock song.' A 'Nothin' But a Good Time.' But modern. 'Talk Dirty to Me.' A great guitar riff, good lyrics, a hook in the chorus. Just something that's fun for us to write. And who knows? Maybe it could be a modern-day 'You Shook Me All Night Long.'"
Michaels clarified that he doesn't expect POISON to be able to release more than one new song.
"You give us a whole album," he says, with a laugh, "you'll get the best prize fight you've ever seen."
Escucha"Bret Michaels of Poison / August 2022" en Spreaker.