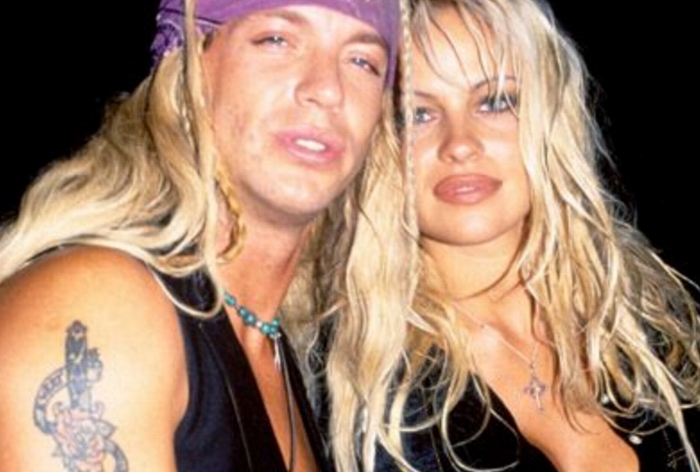 Source: MTV News Gallery
Courtesy of Scott from Oregon, USA
You may not have thought that Pamela Lee's homemade sex tape repertoire would expand beyond "Pam & Tommy Lee Hardcore and Uncensored" (the reputedly stolen home video currently being distributed in stores by the Internet Entertainment Group, Inc. - for more on this see "Tommy, Pamela Lee Sue Website Over Sex Tape), but it has.
A new video, obtained from a "non-disclosed authorized source" by the Internet Entertainment Group, starring Mrs. Lee, is about to be unleashed on the marketplace.
This new video features Lee with her ex-boyfriend, Bret Michaels, singer for Poison. Heather Dalton, a spokesperson for the IEG says about the tape, "It is all sex and is going to be a collector's item for the true voyeur."
IEG declines to state when the Michaels-Lee tape was created. Dalton says that the tape will be aired in its entirety "digitally enhanced" on IEG's website on January 26, before being sent to stores in VHS, DVD, and video CD formats.
Coincidentally, about this time last year we reported that Michaels hired a private investigator claiming that his dog had been killed, his car sabotaged, and his Nashville home set afire all because he refused to sell X-rated videotapes he'd made with Pamela Lee back when she was Pamela Anderson (see "Poison Singer Fears For His Life" from January 23, 1997 in the MTV News Gallery).
Michael's lawyer says that he's warned IEG it has no clearance to release the tape, and adds that Bret has spent $100,000 trying to stop the tape from coming out. Michael's lawyer also suspects that an ex-employee of Michaels' stole the tape.