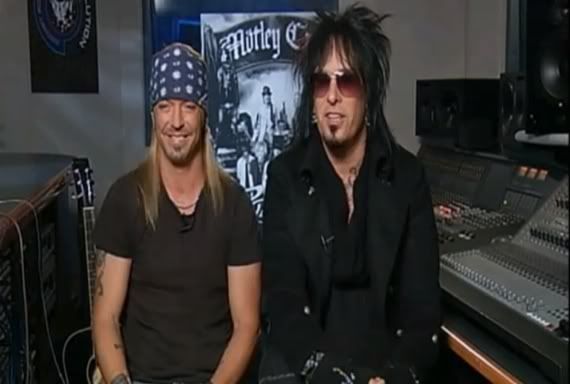 Noisecreep
interviewed Michaels yesterday and asked him if he felt comfortable commenting on the recent Sixx mudslinging.
"No, I love it and I hope you can help me put this to rest," Michaels said. "I'm going to be very blunt and honest. When my career started, Nikki and I hung out and I remember telling him there were some Crüe songs that I absolutely liked ? I took a positive approach to things. Everything was great.
"Now at one point ? I think it was in the mid-'90s ? Poison and Bon Jovi were playing the arenas. Our 'Native Tongue' album [1993] had sold a million copies and Bon Jovi's album, 'Keep the Faith' [1992], was at about 1.5 million or something and at one point in the middle there, Mötley Crüe changed singers all this stuff. That's around the period when Nikki decided to brand his band differently," Michaels continued. "What confused me about that time period was when Nikki said that Vince and I were kind of ridiculous. Now these are his words, 'You and Vince are kind of the same -- you don't really pick and choose your fans, you just kind of go out and play music.' Well, I thought that's what music was about. I didn't know I was supposed to decide which fan can like or not like my music.
"I did Nikki's radio show about two months ago and it was an absolutely great day. We talked about the tour and everything was cool. Now on the show he says to me, 'Bret man, what's going on? Let's take a picture together,' and so on. He even apologized to me and said, 'I sort of said a lot of bad crap about you guys, but you're actually a relevant band,' and he went in and said some other good stuff about a month ago. I got a text from Nikki two weeks ago saying, 'Hey bro, excited to see you on the road!' But then all of a sudden, out of nowhere, I hear about him talking trash about us again. I can't keep up [laughts]!"
Noisecreep asks Michaels if the back-and-forth has gotten to him.
"The funny thing is that I don't harbor any bad feelings towards Nikki. That's why I get confused when all this negative stuff comes up. Now I'm the kind of guy that doesn't get off the phone and become a different person. So it was confusing to hear that he was saying bad things about Poison in the press or whatever."
Noisecreep mentions that pulling off a Poison and Mötley Crüe tour sounds like a nightmare in terms of the egos that might be involved.
"There's no ego on my part ? I want this to happen. I want to be very upfront with you, Mötley will be closing all of the shows and that's fine with me. I'm just excited that we're doing this. I remember having a great phone conversation where I said, 'Nikki, if you don't want to do the tour, then don't do it. I just think the fans would love it.' There was no bad intention on my part. Look, Poison and Mötley don't have to love each other. All we have to do is go out on the road and put on a great show and be professional.
"This is the biggest amount of tickets and sales [Mötley Crüe have] had in three years. Fans are buying seats in a ? let's be honest ? s---ty economy, so the public has spoken. I'm not sure what Nikki's been ranting and raving about lately, but like I said, these are the best ticket sales they've had in a long time. They are celebrating their 30th anniversary and we're celebrating our 25th ? let's go out and have a party."