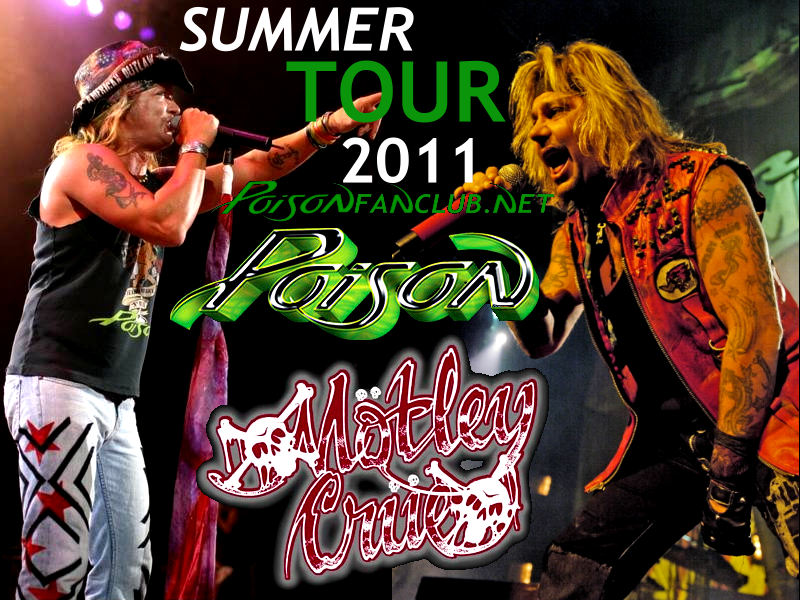 According to
The Windsor Star
, POISON singer Bret Michaels announced during last night's (Saturday, November 13) solo concert at Caesars Casino in Windsor, Ontario, Canada that POISON and MÖTLEY CRÜE will celebrate their 25th and 30th anniversaries, respectively, in 2011 by joining forces for a tour. No further information is currently available.

In a February 2004 online posting, MÖTLEY CRÜE bassist Nikki Sixx shot down reports that his then-band BRIDES OF DESTRUCTION would be touring later that year with POISON and KISS. "No way in fucking hell would we (BRIDES OF DESTRUCTION or MÖTLEY CRÜE) ever, ever tour with a fucking band like POISON," he wrote. "We have had talks with KISS and I told them very clearly that we would not do the tour if they used POISON. That would be the death of us... I will not be attached to that kind of fake bullshit..." When questioned about his comments in a May 2004 interview with the Stamford Advocate, Sixx explained, "I was in negotiations and said it depends who else is on the tour. If you're going to do a nostalgia thing, we're not interested. If you go get JET or THE DARKNESS, it sounds like fun. All of a sudden they come back with KISS, the BRIDES and POISON! There ain't no way in hell I'm doing that tour. I will not play with fucking POISON. There are followers and leaders. I'm not into followers."
During a July 2005 interview with the Fox 2 TV network, Sixx famously closed out the four-minute chat by calling the interviewer "an asshole" after he was asked the question, "Who rocked harder in the '80s: MÖTLEY CRÜE or POISON?"
When POISON drummer Rikki Rockett was questioned in an August 2006 interview with DelcoTimes.com about Sixx being abrasively vocal in his displeasure about being categorized alongside POISON, Rikki replied, "Nikki really needs to get over it. I don't think a forty-something-year-old man should be acting like that; you'd think with all that Nikki has been through, he wouldn't care about these dumb little rivalries."
http://bit.ly/eM1W6X