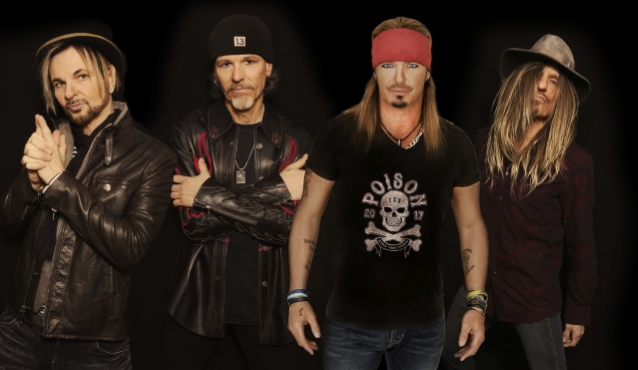 Bret Michaels says that POISON will return next year with "an incredible tour" and "hopefully" at least one new song.
In 2018, POISON completed the "Nothin' But A Good Time" tour with CHEAP TRICK and POP EVIL.
POISON's last album of new material was 2002's "Hollyweird". An album of covers, "Poison'd", followed in 2007.
During an appearance earlier today (Tuesday, March 26) on SiriusXM's "Trunk Nation", Michaels promised the iconic glam rockers will be back on the road in 2020. "One thousand percent," he said. "Next year, all of us back out, and we're gonna make it unbelievable."
The singer, who also performs POISON songs as part of his solo sets, continued: "I never do anything 'instead of.' It's not like I've gotta leave POISON to do solo or vice versa; I just make it all work in tandem. And next year, we're already talking about where to kick it off, where to start, and we're gonna make it an incredible tour, and then mix that with the solo dates. It's gonna just continue. 'Cause at this point, this is what I not only love to do, it's what I live and do. This is what I love to do — be out on the road making music — and POISON is gonna bring, again, an awesome show next year."
As for what fans can expect to see from POISON next time around, Michaels said: "We're gonna put a new look together. Hopefully — hopefully — a [new] song or two. Even if we just get one good song together. I said, 'Guys, let's just write one awesome, kick-ass, modern-day, now, today, a 'Nothin' But A Good Time', a modern-day 'Talk Dirty To Me', a 'Ride The Wind'. Let's just go in there and write one kick-ass song and let's just take it out on the road with all the hits and have a great time.'"
Last summer, POISON bassist Bobby Dall said that the band "should" be making a new studio album but claimed that he didn't know if it would happen. "I'm not going to bullshit you and say there's any [new music] in the process [of being made]," he told All That Shreds. "Would I like there to be? Yes. But, it's a matter of everyone having the time. Everybody in the band has other commitments. Some members have younger children than others. So between those two issues, it's difficult, and, you know, [there are] health issues as we get older. Should we be making a new record? Yes, definitely. But will it happen? I don't know."
In a 2017 interview, POISON drummer Rikki Rockett acknowledged that part of the reason the band hasn't been motivated to work on new music has been the fact that fans rarely show interest in hearing fresh material performed live when classic rock groups go on tour. "We could write the second coming of 'Talk Dirty To Me', and I don't know if people wanna hear it or not, and that's a frustrating thing; it really is," he said. "AEROSMITH was able to do it, but not everybody is. I mean, even THE ROLLING STONES have had problems with that in the last few years. So… I don't know. But I do think it's important to stay viable. For the 'über fans,' it's always a really, really good thing. And that's what you do it for — you do it for you, you do it for the real fans, the real true fans."
More recently, Rockett admitted that he and other members of POISON harbor some resentment toward Michaels, whose frequent tours as a solo artist caused the band to take a five-year break from the road.
"I think we need to get away from each other and do other things, but at the same time, I think he spent a little too much time away," Rockett said. "There's definitely some resentment, but not resentment like I want him to fail. I want him to do good. I just want POISON to be important too, and I would like [him] to put a little more energy into POISON."