Opie & Anthony Rundown:
Sharon Osbourne and Bret Michaels join this morning Opie & Anthony in the studio. They're not allowed to say anything at all about Celebrity Apprentice - not even allowed to imply that they're on it.
Opie asks Sharon about being on Raw last night and Jimmy asks her about fans saying that Ozzy is a sell-out. Opie asks her what she and Ozzy wouldn't do for a big paycheck.
Opie asks her about America's Got Talent and about David Hasselhoff. Bret and Sharon each tell a quick story about him.
Jimmy asks Sharon about Kelly Osbourne on Dancing With The Stars. They talk a little about Chuck Liddell who was also on DWTS.
Jimmy plugs an event that Sharon and Bret are doing today along with Maria from the WWE. It's a rock-star fitness class in Manhattan.
Maria from WWE. She is at the fitness class. They talk a little about the class and what it's about.
The clip of Jimmy introducing Ozzy on stage at a festival in L.A. which makes Jimmy cringe in embarrassment every time he hears it (the Barry Manilow clip). Everyone laughs. Sharon says that Simon Cowell lives near where that happened and heard Jimmy and asked her about it.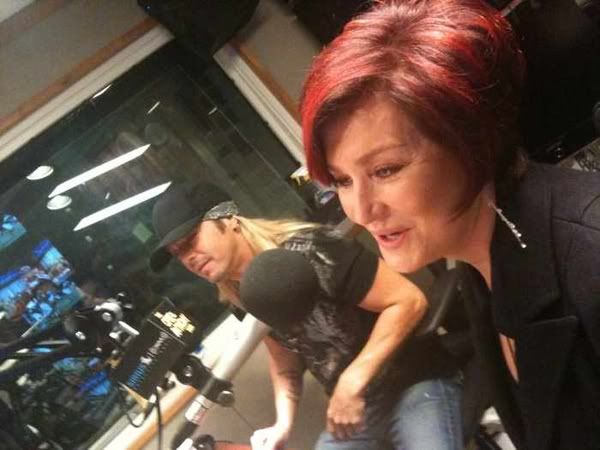 Opie asks Bret how his nose is doing after being hit in the face in the Tony Awards and Bret explains what happened.
Maria talks more about the fitness class. They say that Maria and Sharon and Bret are all just doing this and hanging out for the fun of it (making sure not to say that it's for Celebrity Apprentice).
They talk about Ozzy and Jimmy's relationship. Sharon talks about a pic that Jimmy gave to Ozzy which she says is the best gift ever.
Jimmy asks Sharon what she thinks about Susan Boyle and she goes off on her. Opie asks Bret about the Rock Of Love and they goof around about it.
They joke around for a while longer and Jimmy plugs the event again. Sharon is funny. She tells a story about Ozzy bashing Jeff Beck at a Rock And Roll Hall Of Fame event recently. Jimmy asks Sharon about Jack Osbourne and Amy Osbourne who doesn't want anything to do with the show business limelight.
They say bye to Maria and Bret and Sharon and plug the event again.