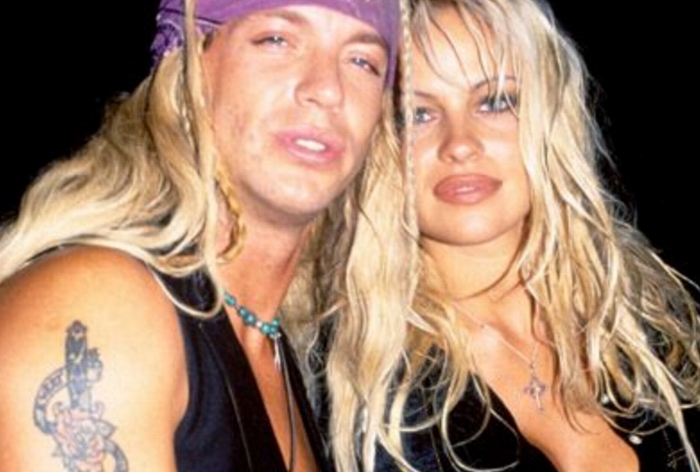 Source: MTV News Gallery
Courtesy of Scott from Oregon, USA
There's a big legal battle brewing over the latest Pamela Anderson Lee sex tape, which features her with her ex-boyfriend, Bret Michaels of Poison.
Last Friday, Michaels went to court and got a temporary restraining order, to keep the Internet Entertainment Group from posting the X-rated tape on Monday. Pam and her husband Tommy Lee failed to stop I.E.G. from posting, and now selling, the Pam and Tommy sex tape, which it says has grossed in the seven-figures in home video sales.
I.E.G. says Michaels just wants more money than it's already paid him, while Michaels denies that he's been paid anything, and says that in fact he's spent almost $100,000 to keep the tape off the market.
He's also suing I.E.G. for $90 million in a case that opens next Monday.
I.E.G. says it got the Pam and Bret tape from a friend of Michaels, who told MTV News by phone late Monday that he still has his copy, and so does his friend. As far as he knows, the only other copy of the tape belonged to Pamela Anderson Lee.
"What I'm jonesing to find out, and I can not figure out for the life of me, is why Pamela is not A) stopping this tape, or B) writing to these guys to stop the tape," Michaels told MTV News.
"It makes no sense to me. I can not figure out. I have the original copy. I have it. No one's ever touched it. No one's ever gotten to it. I have it, period, end of story, and it's never gone out, so I'm anxious to find out who gave them this tape or a copy of this tape and now they're forced to disclose it. And no, I've never taken a cent, not a penny. These guys have cost me a lot of money, and they're going to pay for it."
Pamela Anderson Lee's representative told us she's now discussing this situation with her lawyers, and plans to issue a statement shortly.
I.E.G. says it's within its rights to release the tape, and will ask that the Bret Michaels suit be dismissed.