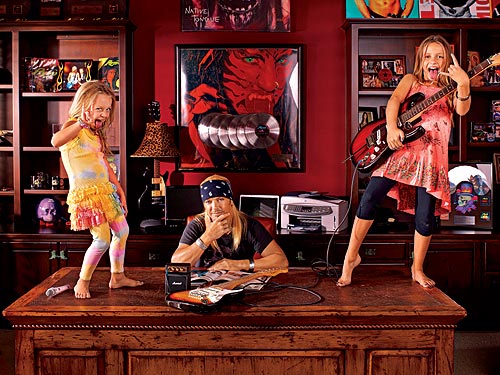 In a recent interview with People.com, Bret MIchaels said that the most important thing I?ve taught to my daughters is that I love them,? Michaels, 47, says of his daughters Raine, 9 ½, and Jorja, 4 ½. "I may not be there every day of their life, but I call them three [or] four times a day."
Michaels and the girls? mother, Kristi Gibson, whom he dated off and on for more than 10 years, share custody of the kids. "It?s a work in progress," he says of their relationship. But they?re solid as can be when it comes to parenting: "We tell our daughter their mom and dad will never be replaced," he says.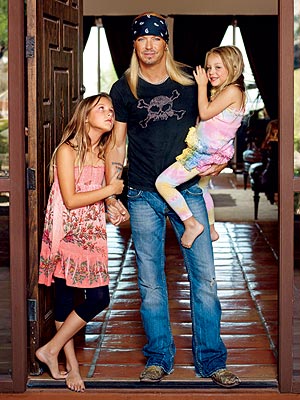 Though currently on a solo tour?and appearing on NBC?s The Celebrity Apprentice?Michaels comes home to Arizona, where Kristi lives with their kids, as often as possible.
As for his daughters? unique names, "I?ve got to give full credit to their mom," he says. He can vouch for Jorja?s middle name, Bleu, though. "We threw her a little French in there," Michaels says with a smile. "A little culture."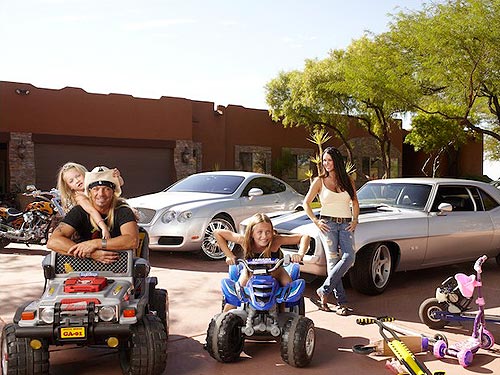 He also provides plenty of fun. The family driveway features scooters, mini Jeeps and ATVs for the kids to ride, plus Dad?s "toys," of course, including a Mercedes, which serves as the family car. "We?re like the Griswolds of rock ?n? roll," he jokes.
And what do the girls? think of their rocker father? "We sing together," says Raine. "It?s really cool. He?s just kind of like a big kid." Adds Jorja: "Dad is a rock star!" And perhaps more importantly, the 4-year-old says, "He is my hero."
http://bit.ly/cjvyA9