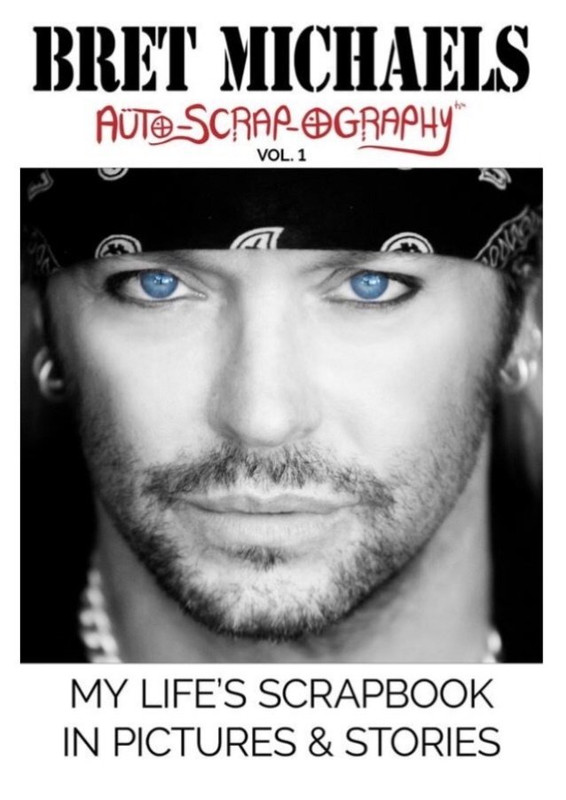 Bret Michaels will release his first book, "Bret Michaels: Auto-Scrap-Ography," on May 12. The book is a mix of audio and video elements, in addition to photos and print stories.
"Auto-Scrap-Ography" provides a humorous, real and raw inside look at Michaels's journey through highs and lows, and how he overcame every adversity life has thrown in his way: From his extremely humble beginnings, growing up in a small Pennsylvania town and learning to rise up in the face of adversity, battling a life-threatening illness daily as a type one juvenile diabetic; to the massive success as a solo artist and with POISON; to rocketing to the top of the music world, reality TV, and entrepreneurial branding; to the causes closest to his heart: his charitable and philanthropic efforts around the world; And continuing through present day, as Michaels is revealed as the fan favorite, Banana on Fox's hit show "The Masked Singer".
"I travel from birth to 'Masked Singer' to everything," he said. "I read the whole thing and then you have still images of each chapter, and it has moving images. The book is heart felt, truly handwritten by me. I've gone through a lot of things in my life, but it stays positive. It will be a good fun summer read about facing adversity and overcoming everything from music to life to diabetes."
The book will be available in both e-book as well as hardcover formats -- and to kickoff World Book Day, "Auto-Scrap-Ography" is available for pre-order now by visiting ShopBretMichaels.com.