Bret Michaels is scheduled to perform at Fifth Third Field on May 26. Bret will sing "Take Me Out to the Ballgame," during the seventh inning stretch of that night's game against Norfolk. In addition to the performance in between innings, the Mud Hens are giving fans three chances to see Michaels at the Omni on May 27. He will be appearing with the Rock of Love Bus Tour show at 6 that night.
- "Be Like Bret" look-a-like contest: Fans can dress like Bret Michaels and the "best Bret" will win tickets to the Omni. Stop by guest services before the start of the May 26 game to register.
- Ballpark signup: Register at guest services for a chance to win tickets
- Online signup: Go to http://www.mudhens.com/contests/bretmichaels/ to sign up for a chance to win online. The drawing will be at noon May 26, and the winner will be notified by phone/e-mail.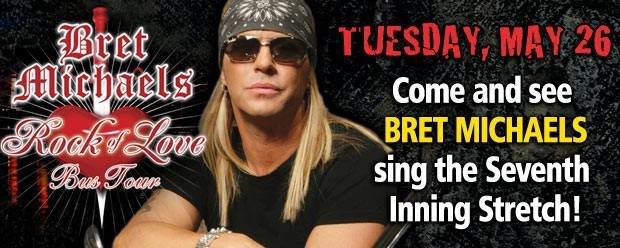 http://www.toledofreepress.com/2009/05/20/bret-michaels-to-rock-out-mud-hens/