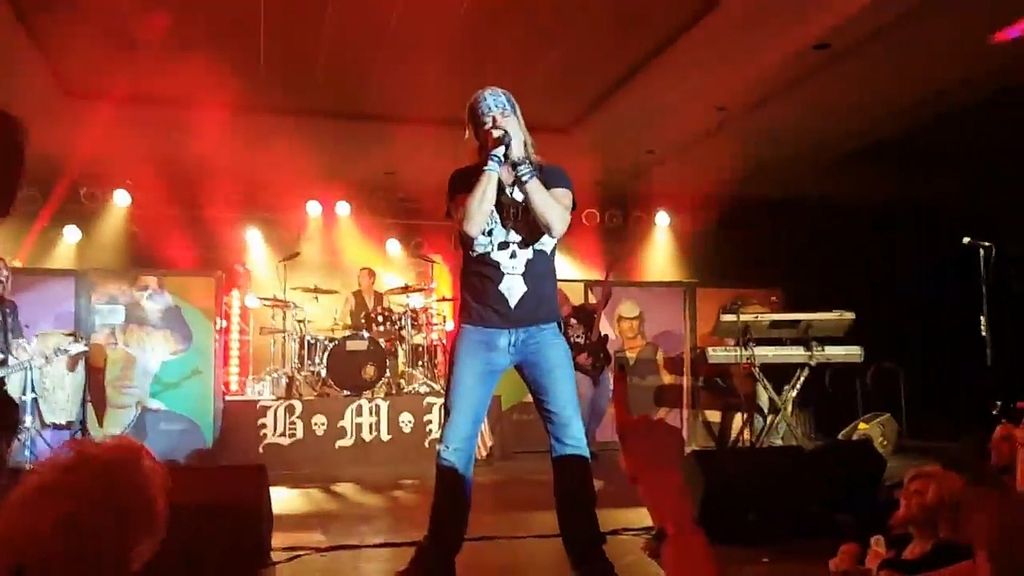 During last week's appearance on
"Trunk Nation"
, Eddie Trunk's show on SiriusXM channel Volume (106), Bret Michaels spoke about the band's upcoming North American tour with DEF LEPPARD and TESLA. A few excerpts follow (transcribed by BLABBERMOUTH.NET).
On why now was the right time to reconnect with the other guys from POISON:
Bret: "It's two things. One, it will be awesome - honestly - it will be awesome to see Bobby and C.C. and Rikki again. We always have fun. I know there's notorious stories of… You know, the great thing about us, if we have any problems, we don't bother to air it out backstage, we just wait until we're onstage to beat the hell out of each other. So I've always laughed and told you, it's great music, there's always a great energy, and occasionally you get a lot of pyro and a good prizefight once in a while. But, honestly, to me, we're mixing up with the solo dates and with POISON/DEF LEPPARD… We had such a great time out with DEF LEPPPARD last time, and obviously with TESLA out there, it's just a great early summer… I call it early summer, but it's starting off… kicks off first week of April, I believe in New Hampshire, and I'm really looking forward to it - playing all the greatest hits and just being out there and having fun."
On how much contact he's had with the other members of POISON in the years that the band has been inactive:
Bret: "We go and do some of the private [gigs as POISON], and it's really great. And every time we do it, we get together [and] we rehearse, everyone's having fun, it's great to catch up, but not on a daily… You know, I don't see them on a daily basis. It's like I said, we're four guys that if you asked us for direction to any place, we would give you four completely different directions to get to the same location. It's just our personalities. But also that energy - the fact that none of us are 'yes' men to the other person, we all have our own individual identity, but when we get out there on that stage and it's working, there's a certain energy in the air and a certain party and feeling that everyone's on their feet, hands in the air. And it's truly a great time. And probably of all of 'em, Bobby's the one I'm in the most contact with. You know, we're all friends, but Bobby's probably the one I speak to the most about… not just about POISON; just about life in general."
On how he felt when Rikki, Bobby and C.C. went out and performed POISON songs without him at several shows under the name THE SPECIAL GUESTS (with Brandon Gibbs handling lead vocals):
Bret: "I think it's an amazing idea, and here's why. I even told 'em, I said, 'Look, neither of us are using the POISON name. Keep that to the four of us being out there.' They went out under THE SPECIAL GUESTS. Brandon has actually, before then and since then, been on shows with me as a solo artist. And then when Pete [Evick, guitar] had to step out for a few shows for personal reasons, [Brandon] came in after he played with POISON, or the guys from POISON - with C.C. and Rikki and Bobby - he came in and was my guitarist in the solo band. So there's no funk. I love and feel blessed that we grew up together. We all grew up in areas that were probably very little chance of us making it, and we all stuck it out together, and they're still my… In a weird way, although our lives go separate ways, we're still best buddies and I have an immense amount of respect for for all of them. And without them, I wouldn't be here talking to you on the phone."
On where he sees POISON going after the DEF LEPPARD tour:
Bret: "We would all have to go do this and have a great time together and say, 'Look, next year I think we're gonna go out, just headline, pick out twenty or thirty dates, and go play.' But I think we have to go through this… I think you just simply go through this. This isn't gonna be one of those scenes where - God forbid - we're ever inducted into the [Rock And Roll] Hall Of Fame and no one will show up or this; there's none of that. It is truly as real as it gets. Those moments that we're having a great time are real, and when it goes ugly, it's real; it's not a pre-thought-out thing. And I think we just go through this, have the best time in April, May and June. We've added more dates through Canada and a bunch of stuff, and just see where it goes. I would literally, when it's done, say, 'Hey, guys, I think it would be killer next year to go out, pick out some great headlining dates and have an amazing time again.'"
On whether he has any interest in making new POISON music:
Bret: "Very simple. You know with me that I still live and breathe for the creativity and making new music. A lot of the reason, for me, to be able to go out with Pete Evick and all the guys in the solo band… We get on that bus and we truly get up there, and even before and after shows, we're up there at soundcheck writing new music, playing new music. And, of course, one day it would be awesome. I don't look at the business of it. It would be great if we could sit down as POISON and say, 'Look, let's just make a really fun, upbeat new 'Nothin' But A Good Time' or 'Talk Dirty To Me'...' I'm not saying the same song, but something that just feels like what we do, obviously with modern production, and have a great time making a new song. But in the meantime, I'm gonna keep creating with what I do, with the solo band."
POISON's tour with DEF LEPPARD will kick off on April 8 in Manchester, New Hampshire and will wrap on June 25 in Indianapolis, Indiana.