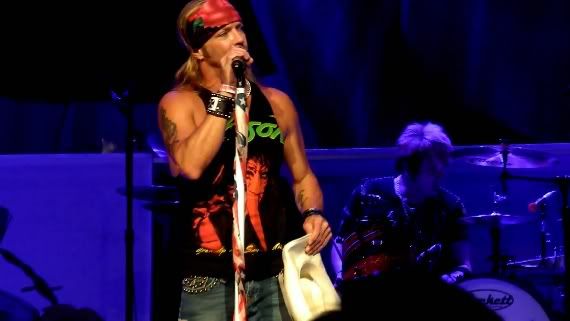 Bret Michaels was interviewed by Hart Baur of the
miamiherald.com
A couple of excerpts follow.
How is the tour going so far?
It?s been incredible. Seeing all the generations of fans together is just mind-blowing and awesome. The energy the crowd brings to the table is great. It?s amazing to see how music can transcend age and be passed on. It?s really a great time for me out here right now. When we all hit the stage, the crowd is always energized and electric. It's the best feeling in the world to hear the fans scream and sing the songs back to you; it's the ultimate high.
This bill seems like a little Glam Metal 101. Are the bands getting along?
We're having a blast. Poison, they're all my brothers, and we all have nothing but respect for Motley and The New York Dolls. The Dolls were a huge influence. They kicked things off and really paved the way for us. I hope the fans walk away feeling like they let all of their problems go and had one of the best nights of their lives.
Are your two daughters Raine and Jorja on the road with you?
I love my girls more than anything in the world, and we have a lot of fun together, so I have them come out as often as possible. It?s a little easier with them on summer vacation right now, so I love to travel with them and have them come out for shows. I?m a family guy, so whenever I?m home [in Arizona] I spend time with them.
How much fun is it to still be doing this so many years later with the same guys?
We literally built Poison from the ground up. So I?m still proud of that, and I know the guys are all as well. I'm also proud that we're still together, and the fans are still loving it. What it really comes down to is the chemistry. No amount of rehearsing can ever give you that.
Did you imagine that Poison would still be on the road in 2011?
I think I did imagine a lifelong career with them. Life is about loyalty to me, you stick together. I?m still amazed by the guys and by what we?ve done together in our career: We turned nothing into something and never faked it. Being real is the one ingredient that leads to longevity, and 25 years later here we are. I honestly believe that having that kind of experience behind us, we're a better band than we have ever been. Poison is a party, and obviously we aren?t kids anymore, but it's still about having a great time. That?s what it's always been about.
What's next?
It's definitely going to be another whirlwind year. I just partnered with Dean Guitars to create my own line of signature guitars. I?m releasing a new solo CD this fall and am doing the Bret Michaels Super Cruise in November going from Miami down to Cozumel, Mexico. It'll be a wild time ? a great chance for me to kick back, rock out and relax with all of my fans. There are always dozens of more things I want to do, more projects. Tom Petty once said, 'You never slow down, you never get old.' That line has served me well thus far.
http://bit.ly/o6bAN0