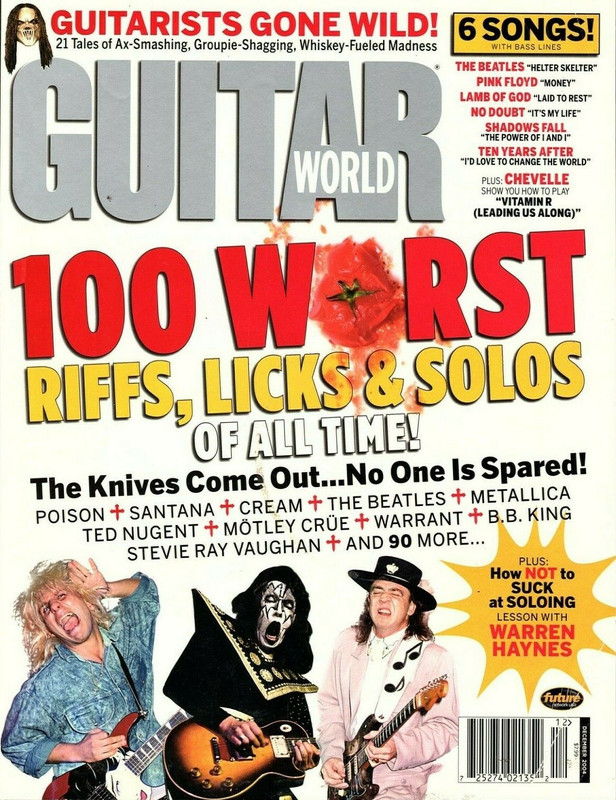 The Associated Press is reporting that Guitar World magazine has selected the "100 Worst Riffs, Licks & Solos of All Time," identifying ones that are "lazy," "boring," "just plain stoopid," or "involve C.C. DeVille."
The list includes songs by DAVID BOWIE, DEF LEPPARD, METALLICA, GREEN DAY, B.B. KING, THE GRATEFUL DEAD, JIMI HENDRIX, AEROSMITH and THE STROKES, among others. Many are guitar legends who simply had a bad night or bum note.
Guitar World describes the No. 1 selection, POISON guitarist C.C. DeVille's nine-minute solo — entitled, appropriately enough, "Guitar Solo" (off POISON's "Swallow This Live") — "completely devoid of taste, structure or steady tempo" and recommends every budding guitarist listen to it because "surely, they can't do any worse."
DeVille was also cited for his "Cherry Pie" solo when he made a guest appearance with WARRANT and POISON's "Every Rose Has Its Thorn".
The magazine recommends DeVille "take solace in the fact that he's in some rather good company."
Top 10 "Worst Riffs, Licks & Solos of All Time" as selected by Guitar World magazine:
01. POISON – "Guitar Solo"
02. BLUE CHEER - "Summertime Blues"
03. CARLOS SANTANA - "The Game of Love"
04. CREAM - Falstaff beer 1967 radio spot
05. THE BEATLES - "All You Need is Love"
06. BLACK FLAG – "Thirsty and Miserable"
07. TED NUGENT - "Wango Tango"
08. ROLLING STONES - "Ain't Too Proud to Beg"
09. MANOWAR - "Sting of the Bumblebee"
10. LENNY KRAVITZ - "American Woman"