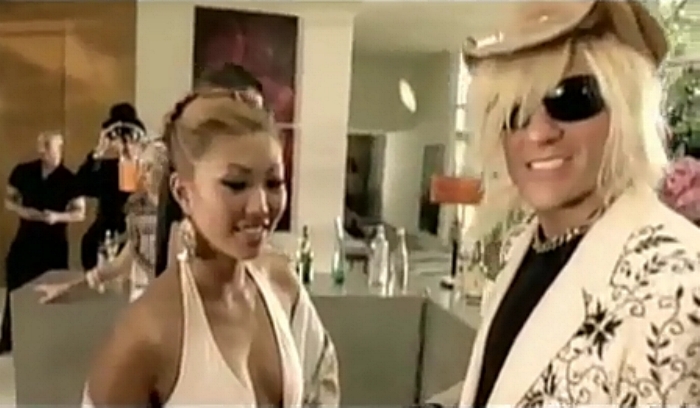 "Through Glass" is the first single of STONE SOUR's new album entitled "Come What(ever) May".
For the song's video, STONE SOUR worked with director Tony Petrossian (SLIPKNOT, AVENGED SEVENFOLD, HEAD AUTOMATICA) to create a potent visual that assails the ever-growing plastic celebrity culture. In the clip — shot at a Chatsworth, CA hilltop home previously owned by Frank Sinatra — stereotypical caricatures of celebrity and entertainment industry figures are seen at a party as members of STONE SOUR wander throughout the house. C.C. Deville (of POISON fame and more recently of "The Surreal Life" on VH1) has a cameo as one of the revelers. The members of the band stand in sharp contrast to the farce playing out around them. The artificiality of the celebrities and industry types is underlined when they literally transform into cardboard cutouts of themselves and are picked up and carried away by stagehands. The video storyline ends with STONE SOUR performing alone in front of a sign that captures it all: "HOLLOWOOD."
The song itself — with its reference to "An epidemic of the mannequins contaminating everything" — began when STONE SOUR frontman Corey Taylor (also of SLIPKNOT) was "sitting in a European hotel room watching a music video channel," he says. "I just remember seeing act after act of this inane, innocuous, plastic music. They were bubbly gossamer-thin groups, where it was really more about the clothes they wore and the length of their cheekbones than it was about the content of the song they were singing. 'Through Glass' is really a very angry song. It's me basically calling 'bullshit' on pretty much everyone involved with the 'American Idol'-type shows. It has its place, but when you're basically cornering the market and making it very hard for anyone who actually writes their own music to get ahead, then it's wrong and that's really why I wrote this song."