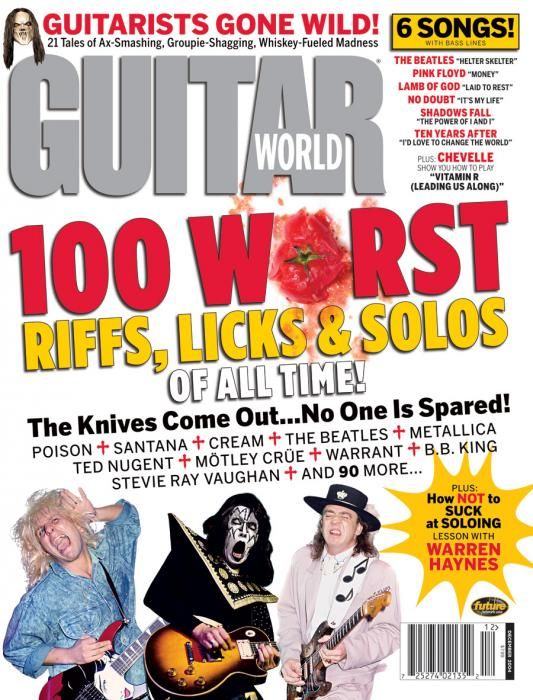 Guitar World Magazine has just published its picks for the "100 Worst Guitar Solos" on its web site, GuitarWorld.com. The list includes tracks by Jimmy Page, Jimi Hendrix, C.C. DeVille, Eric Clapton, George Harrison and more.
Top 10 "Worst Guitar Solos," according to Guitar World:
01. POISON/C.C. DeVille - "Guitar Solo" (from "Swallow This Live!", 1991)
Remember when you were in high school and your novice shredder best friend kept insisting he'd almost nailed Eddie Van Halen's 'Eruption' solo, and you'd be stuck in his room wanting to kill yourself as he tried to play it again and again? That's a little what listening to C.C.'s jaw-dropping nineminute solo spot is like. Only instead of your friend going 'No, wait!' and starting over every time he fucks up, there's an arena full of idiots loudly cheering him on. And just to show you the breadth of his chops, C.C. also throws in a messy attempt at some 'Club' style gypsy jazz licks (Django Reinhardt would surely be envious of the tres magnifique tones C.C. coaxes from his pointyheadstocked ax), a touch of polka, some searing Miami Vice blues bends and, of course, several more dive bombs and two-handed tapping runs whenever inspiration fails. Completely devoid of taste, structure or steady tempo, this should be required listening for budding guitarists everywhere. Surely they can't do any worse.
02. BLUE CHEER/Leigh Stephens - "Summertime Blues" (from "Vincebus Eruptum", 1968)
03. CARLOS SANTANA - "The Game of Love" (from "Shaman", 2002)
04. CREAM/Eric Clapton - Falstaff beer 1967 radio spot
05. THE BEATLES/George Harrison - "All You Need Is Love" (Magical Mystery Tour (1967))
06. BLACK FLAG/Greg Ginn - "Thirsty and Miserable" (from "Damaged", 1981)
07. TED NUGENT - "Wango Tango" (from "Scream Dream", 1980)
08. THE ROLLING STONES/Keith Richards "Ain't Too Proud to Beg" (from "It's Only Rock 'n Roll", 1974)
09. MANOWAR/Joey DeMaio "Sting of the Bumblebee" (from "Kings of Metal", 1988)
10. LENNY KRAVITZ - "American Woman" (from "5", 1998)
Go to http://www.guitarworld.com/article/100_worst_guitar_solos to see the entire list