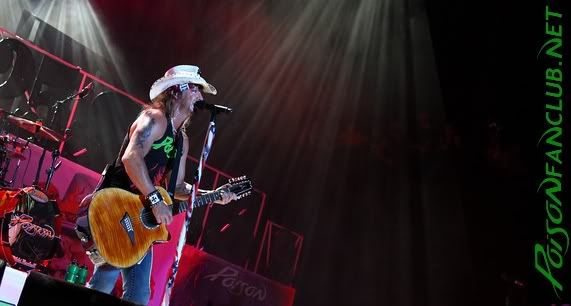 Bret Michaels recently spoke to
AZCentral.com
about his forthcoming solo album, "Get Your Rock On", which is tentatively due this summer.
"[It's a] really amazing record," Bret said. "I put a lot of hard work into this. And everyone that's on it, I'm not only friends with but fans of. I've got Ace Frehley from KISS and Michael Anthony from VAN HALEN. I redid [POISON's] 'Nothin' But a Good Time' and played everything on it but the lead guitar and bass. Ace Frehley plays the solo and Michael Anthony plays bass. Then, 'Every Rose Has Its Thorn' has Joe Perry from AEROSMITH and Hugh McDonald from BON JOVI. And it's got Loretta Lynn singing it with me. Then, Jimmy Buffett, me and him did 'Margaritaville' live. . . It's all people I know. Vinnie Paul from PANTERA. They're all friends of mine. The best one ? are you ready for this? ? I remade 'Sweet Home Alabama' with the guys from LYNYRD SKYNYRD playing and singing on it. Gary Rossington and Rickey Medlocke are on it. I wanted them to hear what I had done. I gave it a really cool feel. And they were like, 'This is awesome.'"
When asked how the sound of his new solo album compares with that of 2010's "Custom Built", Bret said, "For me, honestly, every song has a life of its own. I kind of do exactly what I want to do with each song. And so some of them are like 'Get Your Rock On', real just in-your-face straight-up rock and roll. And then, you've got a really interesting twist to 'Every Rose Has Its Thorn'. What adds the sound to your record is when you get different musicians like that. I mean, having Ace Frehley, there's just no way to describe. It almost takes you back to 'Shock Me'."
http://bit.ly/GTdkPY