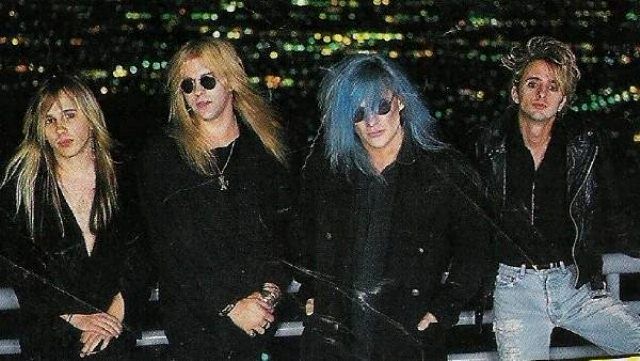 Metal Sudge
conducted an interview with Sweet Savage singer Joey C. Jones. A couple of excerpts follow below:
You hooked up with C.C. DeVille at his most wild post Poison period. Give us three memories from those times.
JCJ: After the MTV Video Awards 1991, when Poison trainwrecked a song live, they had a big fight afterwards. CC and I were already friends. I'd already visited him, and we talked about working together. That night, he told me he wanted to come to LA – he was probably going to leave Poison or something like that. When I arrived, I was thrilled to see that CC already had Carmine Appice on drums, and I remembered Carmine when I was 8-9 years old, because I was a big Rod Stewart fan since I knew who he was.
The bassist in CC's band when I arrived was Jimmy Bain. At first, we just needed songs to jam on. So CC, Carmine, and Jimmy learned 5-6 of my songs. Carmine and Jimmy are mega talents, and CC sounded really good on those songs. Because of money issues or something, that lineup only lasted a month or so. Then, we brought in Adam Hamilton and Chris Torok. Those guys did a great job, and still are.
Memory 1 – Jamming with Carmine.
Memory 2 – CC and Sam Kinison were close friends. I'd met Sam a few years earlier. Sam and his wife were going through a divorce at the time, and smacking each other around. To avoid the law, Sam stayed at CC's for about a month. He was always in character, except for the nights when he was the last one up. Some of those nights, I was the last one up with him, and he cried on my shoulder about his brother. On a lighter note, I'd just pick up the phone and call my friends all over the country, and put Sam on the phone with them. I'd give him just a little bit of information on this person, and he'd shred them to pieces. My friends still claim that was the greatest time of their life, even though they were verbally destroyed. Sam was the most rock and roll fucker ever.
Memory 3 – we were preparing to showcase for Capitol Records, and one of our band members had pulled a 3-day bender. We were unable to do the showcase. That's not a good memory, but it's not a horrible memory- it was just someone being who they were, at the time. It was a tough time for him. Nothing but love comin' from here.
After the CC project, Adam Hamilton, Chris Torok and I formed Joey C Jones and the Gloryhouds. At the height of grunge, 1994, we were heavy rotation in over 40 states, and our video made it to MTV and the band sold enough units to stay on the road for almost 3 years. We did it with a song I'd originally recorded with Nielsen and Zander. So the CC thing worked out really well for me.
The songs you did were good. What happened to that project that was going to be called (maybe) Needle Park?
JCJ: We couldn't think of a name for the CC band, but one of the names CC considered was Needle Park. So after myself, Adam, and Chris left CC's band, we did the Gloryhounds. After the Glortyhounds, Adam and Chris did a project that included Donnie Vie of Enuff Z'Nuff. They called it Needle Park. So that's where the name was used.
How come C.C. had no furniture in his house?
JCJ: The downstairs had 5 bedrooms, and I just had a mattress in my room, which was all I needed. I'm glad there wasn't furniture there, because there were always people there, and there would've been puke, piss, and who knows what all over the furniture. There were a lot of people that would crash out there for a few days, including some famous people. They'd wake up with a sore neck, back, and ass from sleeping on the marble floor, because I wasn't giving up my mattress.