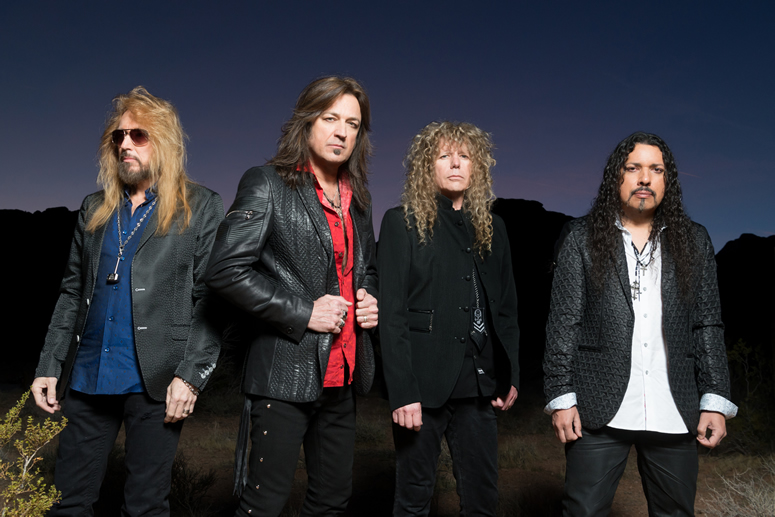 Michael Sweet says that STRYPER is "the most logical choice" to open the rumored MÖTLEY CRÜE tour with DEF LEPPARD and POISON.
Earlier today, Sweet took to his social media to argue that STRYPER should be added to CRÜE's upcoming trek, explaining that his openly Christian band's addition to the package "would work perfectly."
He wrote: "4 reasons @Stryper is the most logical choice to be the 1st of 4 on the MÖTLEY CRÜE tour:
"1. Because MÖTLEY CRÜE has never done things 'by the book'. They've always surprised people, and adding STRYPER to the tour would definitely raise some eyebrows.
"2. Musically it works. It just does. I look at our audiences every night and see MÖTLEY CRÜE and DEF LEPPARD & POISON T-shirts. Whether we all want to admit it or not, we have the same fan bases for the most part. Albeit their fan base is much larger than ours, but musically I think it would work perfectly. STRYPER is at the top of our game musically right now. And I think the entire tour will be performing at its best.
"3. The encore could be an epic mash-up of 'Shout At The Devil' and 'To Hell With The Devil'
"4. More than ever in the history of music we need someone to make a bold statement that says "No matter how different we may seem, as human beings we're really all the same." This is MÖTLEY CRÜE's chance to unite a very divided world right now. For them to say 'Yeah, we may (or may not) believe the same thing as STRYPER, but we're all human beings and we should all get along with one another, no matter what we believe'
"Whatever happens, this scenario would be epic. And certainly the most unique.
MÖTLEY CRÜE
DEF LEP
POISON
STRYPER
"#motleycrue #music #metal #tour"