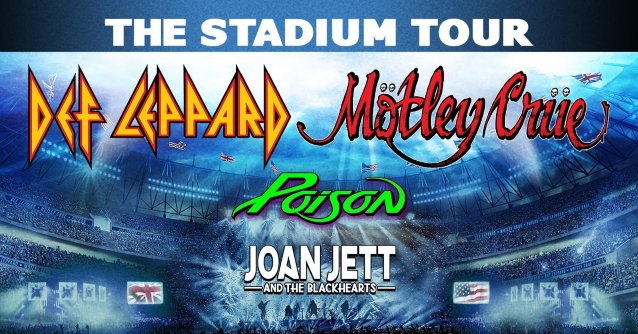 Earlier today, MÖTLEY CRÜE, DEF LEPPARD, POISON and JOAN JETT & THE BLACKHEARTS released the following joint statement regarding the fate of the summer trek:
'We wanted to reach out to all of our amazing fans and let you know that we've been hard at work preparing an amazing show. Our priority during this unprecedented time is to make sure that we are being as thoughtful and responsible as possible in the decisions we are making regarding The Stadium Tour and that we are putting the fans' health, well being and safety first and foremost. We are currently weighing all options and are awaiting further direction from the powers that be.?
Our goal is to have an official update to everyone by June 1 outlining exactly how we will proceed. In the meantime, stay safe and healthy. We can't wait to see you all again."
-Motley Crue, Def Leppard, Poison & Joan Jett
While they are not outright saying it, it's clear all the shows will be postponed, likely to next summer. Even though some states seem amicable to reopening up, it's clear states where there are major infections like New York and California are still many months away from reopening. For a tour on this scale, it is not economically feasible to skip these major states, or even reroute these tours.
Fans should proceed expecting these shows not to happen. But what about their money? The problem is, since the shows aren't canceled or postoned yet, nobody can ask for refunds. Both Live Nation and AEG recently changed their policies offering refunds for postponed shows for only 30 days within the announcement of the postponement.
As a side note, BON JOVI canceled its summer 2020 tour due to the COVID-19 crisis. "Due to the ongoing global pandemic, it is no longer feasible for BON JOVI to tour this summer," the band said in a statement. "Given these difficult times,
we have made the decision to cancel the tour entirely. This will enable ticketholders to get refunds to help pay their bills or buy groceries
. These are trying times. You've always been there for us and we'll always be there for you. We look forward to seeing everyone again on tour when we can all safely be together. We will continue to send out news and updates on BON JOVI touring in the weeks and months to come."