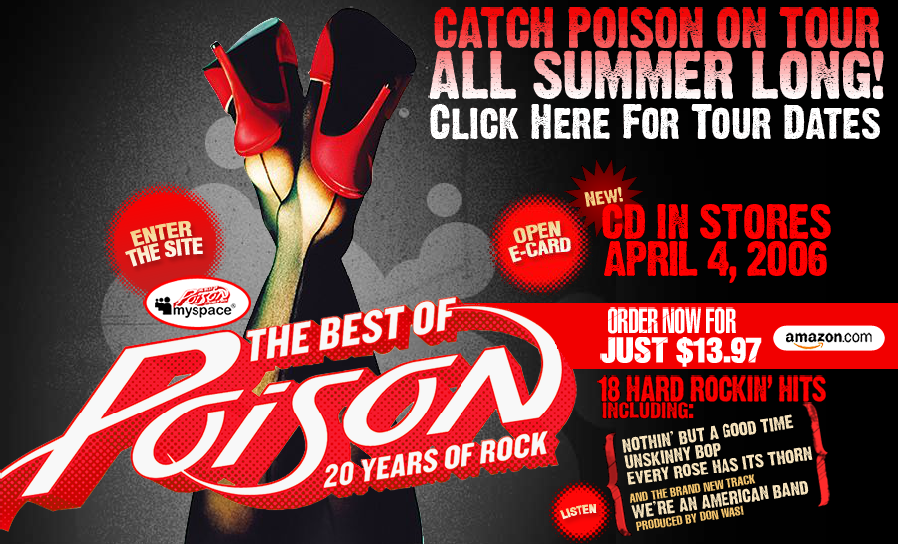 As POISON raises the roofs of more than 50 concert venues across the U.S. this summer on the band's VH1 Classic- and Live Nation-presented "20 Years Of Rock Tour", Capitol/EMI Music Catalog Marketing is preparing for the August 1 reissue of POISON's first three multi-platinum albums in expanded 20th Anniversary Edition CD packages. Digitally remastered with rare and previously unreleased bonus tracks, POISON's triple-platinum 1986 album debut, "Look What The Cat Dragged In", the septuple-platinum "Open Up And Say ... Ahh!" and the platinum "Flesh & Blood" will be released in commemorative 20th anniversary CD packages, honoring the band's exciting and enduring career and their ever-growing tally of more than 25 million albums and DVDs sold around the world.
POISON's 20th anniversary catalog campaign began this spring with Capitol/EMI's April 4 release of a new hits collection, "The Best Of Poison: 20 Years Of Rock", which debuted at #17 on Billboard's Top 200 Albums chart, marking the band's first return to the Top 20 since 1993. The CD packs 18 hits, including the band's explosive new version of GRAND FUNK RAILROAD's "We're An American Band", produced by Don Was (ROLLING STONES, BOB DYLAN). "The Best Of Poison: 20 Years Of Rock - Deluxe Tour Edition" was released on May 16, on the eve of the band's national anniversary tour. The expanded CD/DVD package contains the 18-track CD and a companion DVD with the band's most rocking music videos and an exclusive behind-the-scenes look at the making of "We're An American Band".
All Deluxe Tour Edition CD/DVD packages for "The Best Of Poison: 20 Years Of Rock" include a code for POISON fans to logon to www.20yearsofrock.com to buy one concert ticket and receive one free ticket for the "20 Years Of Rock Tour" as a thank you to fans. "POISON is bringing the kind of summer tour package that rock fans have been waiting for," said Live Nation Senior Vice President of Touring, Bruce Kapp. "We are so happy that both POISON and CINDERELLA decided to spend their 20th birthdays on the road — it's a terrific tour at a great price." To coincide with the bands' 20th anniversaries, and keeping with POISON's tradition of staying loyal to their music and their fans, lawn tickets for each of the outdoor amphitheatre dates are priced at $20 or less.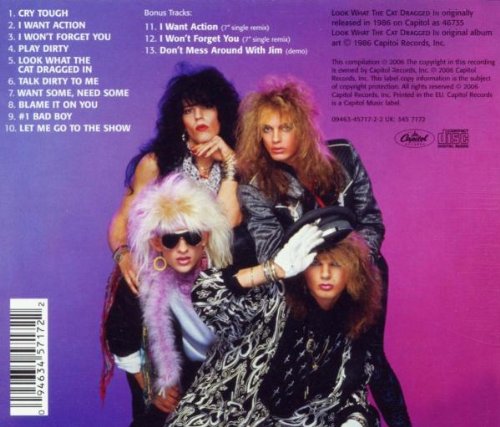 "Look What The Cat Dragged In: 20th Anniversary Edition" track listing:
01. Cry Tough
02. I Want Action
03. I Won't Forget You
04. Play Dirty
05. Look What The Cat Dragged In
06. Talk Dirty To Me
07. Want Some, Need Some
08. Blame It On You
09. #1 Bad Boy
10. Let Me Go To The Show
11. I Want Action [7" single remix] *
12. I Won't Forget You [7" single remix] *
13. Don't Mess Around With Jim *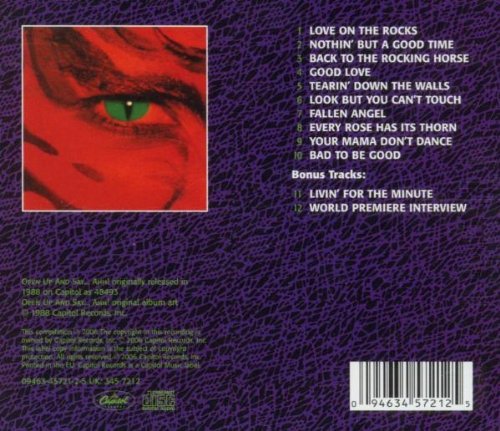 "Open Up And Say ... Ahh!: 20th Anniversary Edition" track listing:
01. Love On The Rocks
02. Nothin' But A Good Time
03. Back To The Rocking Horse
04. Good Love
05. Tearing Down The Walls
06. Look But You Can't Touch
07. Fallen Angel
08. Every Rose Has Its Thorn
09. Your Mama Don't Dance
10. Bad To Be Good
11. Living For The Minute *
12. Band Interview *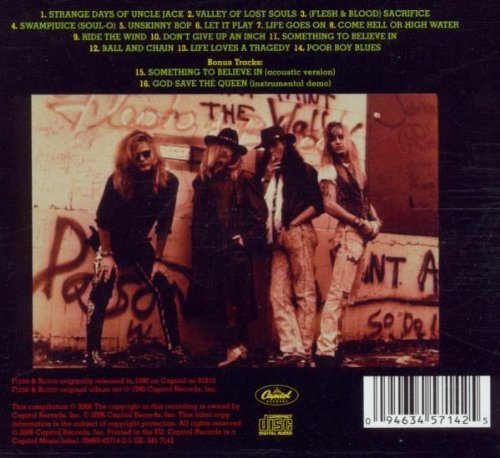 "Flesh & Blood: 20th Anniversary Edition" track listing:
01. Strange Days Of Uncle Jack
02. Valley Of Lost Souls
03. (Flesh & Blood) Sacrifice
04. Swampjuice (Soul-O)
05. Unskinny Bop
06. Let It Play
07. Life Goes On
08. Come Hell Or High Water
09. Ride The Wind
10. Don't Give Up An Inch
11. Something To Believe In
12. Ball And Chain
13. Life Loves A Tragedy
14. Poor Boy Blues
15. Something To Believe In [acoustic version] *
16. God Save The Queen [instrumental demo] * previously unreleased
* = bonus tracks