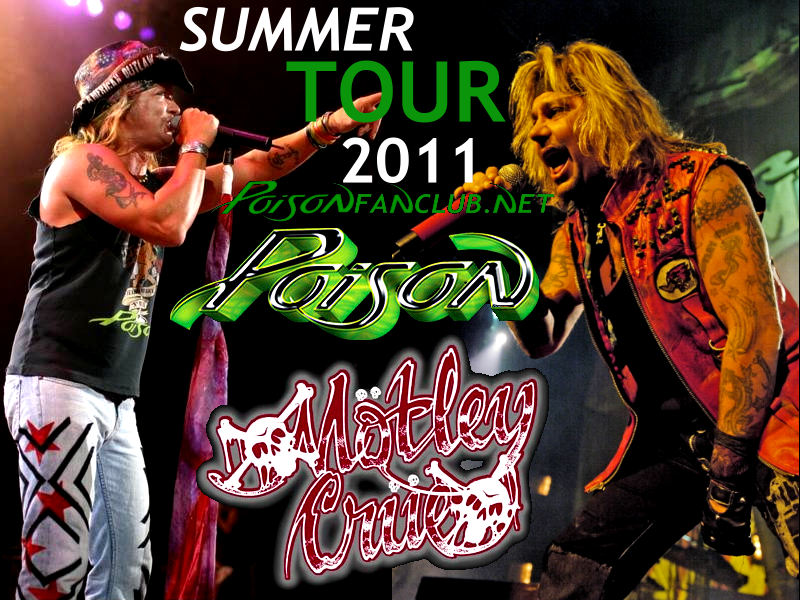 Bret Michaels appeared in an exclusive in-depth interview with Piers Morgan last week, set to air Wednesday. He talked about recovering from health issues, women, his rocker life and more. But he also broke news about a new tour coming this summer.
For the first time ever POISON and MÖTLEY CRÜE will co-headline a select date summer tour with special guests the NEW YORK DOLLS.
Tickets for the MÖTLEY CRÜE / POISON tour will go on sale March 18. POISON plan to kick off their 25th-anniversary "Glam -A - Gedon 25" tour in Tupelo Mississippi at the Bancorp South Arena Wednesday May 25. Michaels will then continue solo, playing Thursday, May 26 in Ft. Walton Beach where he will perform for the fans and troops as he did last Memorial Day weekend. Michaels will rejoin POISON in Little Rock at the River Fest Amphitheater on Friday, May 27. Michaels will then perform solo at the Hard Rock in Biloxi on Saturday, May 28. Bret will rejoin POISON and MÖTLEY CRÜE Sunday, May 29 at Rocklahoma. POISON will then continue on alone playing arenas from Memorial Day until rejoining MÖTLEY CRÜE in Dallas at the Starplex Amphitheater on Tuesday, June 7.
When reporters recently asked Bret Michaels if there was any bad blood between the bands, Michaels laughed: "There may be some friendly competition but there is no bad blood at all on my part. Nikki [Sixx, MÖTLEY CRÜE bassist] and I have spoken several times on the phone recently and the conversations went great." Michaels continued, "Music is a universal language and I am extremely excited that this tour has come together as are the fans, they are truly going to see a great show. Honestly, I could care less about all the mudslinging, it gets nobody nowhere, and after all I have been through health wise in the last year, I am going to try to focus on what does matter which is the show, the fans, fun and personally throwing a hell of a backstage party."
http://bit.ly/eD1l1r
http://bit.ly/i3Ub0z
http://bit.ly/gIjae3
Later today the announcement was corroborated by Rikki Rockett