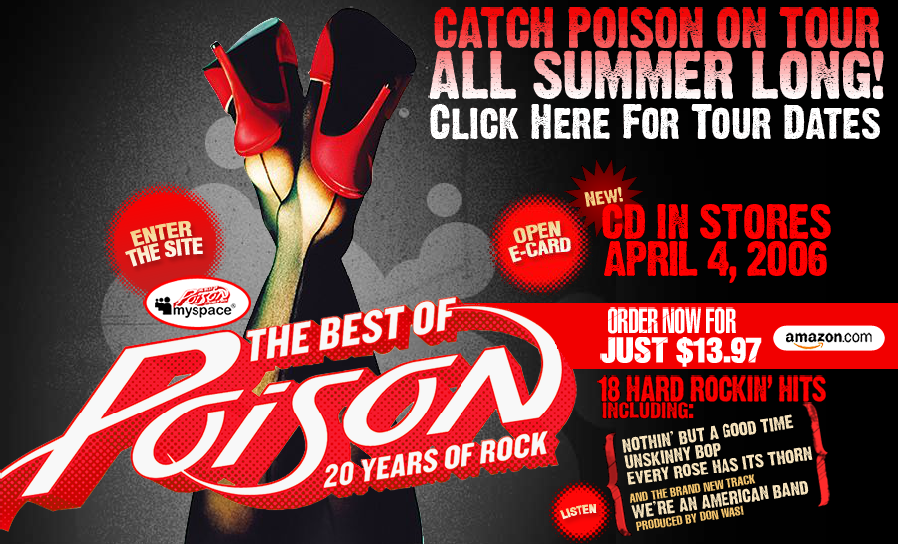 Source: EMI / Capitol
Poison Partners with EMI / Capitol and VH1 Classic for 20th Anniversary CD and Live Nation! -sponsored tour
Monday January 30, 2:35 pm ET
New Hits CD, The Best Of Poison: 20 Years Of Rock, Includes Explosive New Version of Grand Funk Railroad's 'We're An American Band,' Produced by Don Was
May 16, 2006 Marks 20 Years Since the Release of Poison's Debut Album, Look What The Cat Dragged In
20th Anniversary World Tour to Begin in May
CD in Stores: April 4, 2006
HOLLYWOOD, Calif., Jan. 30 /PRNewswire/ -- Poison, one of hard rock's most iconic, enduring and controversial bands, celebrates 20 years in 2006. To commemorate this anniversary milestone and the band's career tally of more than 25 million albums and DVDs sold around the world, Poison and Capitol/EMI Music Catalog Marketing have partnered to release The Best Of Poison: 20 Years Of Rock on April 4. The new 18-track collection packs Poison's biggest hits and fan favorites and will also debut the group's explosive new version of Grand Funk Railroad's "We're An American Band," produced by Don Was (The Rolling Stones, Bob Dylan). In May, Poison will hit the road for a major 20th anniversary summer tour sponsored by Live Nation! and presented by VH1 Classic.
With the band's most recent studio album, Hollyweird, along with Poison Greatest Hits, which just reached double Platinum, and their Gold-certified Greatest Video Hits DVD, Poison continues on with a do-it-yourself attitude, also touring to sold-out venues around the world. Following a 2003 VH1-sponsored tour, Poison co-headlined a national tour with KISS in 2004.
Poison's 20th anniversary world tour will take the band to major concert venues around the globe this summer. Tour dates and line-up details will be announced and posted to the band's official website as they develop. Visit www.poisonweb.com and www.bretmichaels.com for the latest Poison news and links to other related websites.
This May, Poison is one of the featured bands in VH1's new documentary series, "Heavy: The Story of Metal." What Ken Burns did for jazz, VH1 does for heavy metal -- only a lot louder. Premiering May 1-4 (9pm ET/PT), the four-part series traces the evolution of heavy metal music and culture, exploring four decades of music.
Perhaps VH1's Behind The Music special on Poison, one of the network's highest-viewed specials, said it all, encompassing everything about this band: sex, drugs, fun, violence and rock 'n roll. Poison's Bret Michaels (lead vocals, guitar), C.C. Deville (lead guitar, vocals), Bobby Dall (bass) and Rikki Rockett (drums), crashed hard onto the 1980s LA music scene. Voted Most Popular Band two years in a row by Music Connection magazine, Poison's unheard of mix of rock, Americana, pop and punk musical styles, their over-the-top stage show and blue-collar, hard-working mentality shot the band into Billboard's Top 5 with the 1986 independent release of Look What the Cat Dragged In. The singles "Talk Dirty To Me," "I Want Action," and "I Won't Forget You" all launched into the Top 40, and the band watched their debut album's sales climb to more than three million copies. 2006 marks the 20th anniversary of the release.
Poison moved further up the charts and into the headlines with its smash, acoustic-influenced power ballad, "Every Rose Has Its Thorn" launching to #1, and the raucous party anthem, "Nothin' But A Good Time" hitting the Top 10, from the septuple Platinum-certified (representing more than seven million sold) 1988 follow-up, Open Up and Say ... Ahh!. The Top 5 album spawned several radio and music video hits, including "Fallen Angel" and "Your Mama Don't Dance."
After a worldwide mega-tour, Poison returned to the studio with fabled producer Bruce Fairbairn in Vancouver to record 1990's Flesh & Blood. Driven by the first single, the blues-rock influenced "Unskinny Bop" which hit #3, the album reached #2 on Billboard's Albums chart. Packing a Platinum- certified punch, Flesh & Blood also contained the singles "Life Goes On," "Ride The Wind" and the heartfelt "Something To Believe In," written after the death of a close personal friend. The song was unedited for radio and lasted six minutes, yet still made it to #4. The band's video for "Something To Believe In" beat out Faith No More's "Epic" to win MTV's "World Series Of Rock" Video Of The Year. The single was also nominated that year at the American Music Awards.
In 1991, after a well-publicized fistfight between Bret Michaels and C.C. Deville, C.C. left Poison. The band continued to tour arenas and amphitheatres and recorded the Platinum Native Tongue and Crack A Smile. After eight years of not speaking, Michaels and Deville met in 1999 and with their chemistry and friendship quickly rekindled, the band went into the studio to record Power To The People, and had one of the most successful reunion tours ever. Poison's original line-up has remained intact since.
Throughout Poison's career, the band's members have enjoyed collaborative and solo successes that have taken them from the stage to the screen and to many points in between. 2006 promises to be a busy 20th anniversary year for the dynamic members of Poison.
Bret Michaels recently appeared on the cover of Billboard and Radio & Records magazines for his recently released solo album, Freedom of Sound, and his 2005 solo tour broke attendance records at several outdoor venues. Michaels' rootsy Americana style has helped the album's lead single, "All I Ever Needed," cross from rock to country airplay charts. Michaels manages his own record label, BMB Records, and he has also produced and written songs for numerous artists, including "Love's A Hard Game To Play" from Stevie Nicks' platinum-certified Timespace: The Best Of Stevie Nicks.
Michaels has made numerous television show guest appearances, including "Yes, Dear" and "Martial Law" on CBS, "The Chris Isaak Show" on Showtime, and has been a judge on USA's "Nashville Star" and a co-host of the syndicated entertainment news show "Access Hollywood." He has also appeared on VH1's "Rock Bodies" with Beyonce Knowles, made Spin magazine's "Top 100 Greatest Moments in Rock," has appeared on the cover of Playgirl magazine and has had his ten-acre Malibu Ranch featured on MTV's "Cribs."
Premiering in March, the new season of VH1's hit show "The Surreal Life" features Poison's C.C. Deville with housemates Sherman Helmsley ("The Jeffersons"), Steve Harwell (Smashmouth), Florence Henderson ("The Brady Bunch"), Tawny Kitaen (of Jaguar hood-writhing Whitesnake video fame), Andrea Lowell (Playboy TV), and the recently gender-swapped Alexis Arquette.
In April, Rikki Rockett will make a guest appearance on TLC's new "Wrecks To Riches" auto overhaul series, helping to restore a 1969 Dodge Dart before giving Poison's new version of "We're An American Band" a spin on the car's amped-up sound system.
2006 will definitely be "Nothin' But A Good Time" for Poison and their fans as they celebrate 20 YEARS OF ROCK!
THE BEST OF POISON: 20 YEARS OF ROCK
1) Cry Tough
2) Talk Dirty To Me #9 Pop
3) I Want Action #50 Pop
4) I Won't Forget You #13 Pop
5) Look What The Cat Dragged In
6) Nothin' But A Good Time #6 Pop, #19 Rock
7) Fallen Angel #12 Pop, #32 Rock
8) Every Rose Has Its Thorn #1 Pop, #11 Rock
9) Your Mama Don't Dance #10 Pop, #39 Rock
10) Rock And Roll All Nite
11) Unskinny Bop #3 Pop, #5 Rock
12) Something To Believe In #4 Pop, #5 Rock
13) Ride The Wind #38 Pop, #28 Rock
14) Life Goes On #35 Pop
15) Stand #50 Pop, #15 Rock
16) The Last Song
17) Shooting Star
18) We're An American Band [new recording, produced by Don Was]