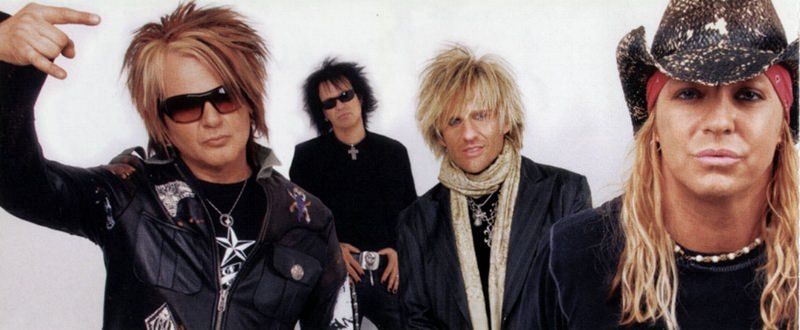 Poison will hit more than 50 U.S. cities this summer on their "POISON'D! 2007" tour. The national tour, with RATT and special guest White Lion joining Poison for most of the dates, rolls out on June 13 in Greenville, SC, with stops in and around New York, Los Angeles, Chicago, Boston, Detroit, Washington, DC and other major tour markets across the country.
Poison's new studio album, POISON'D!, will be released June 5 on CD and digitally by EMI America Records/Capitol. Featuring Poison's original members, POISON'D! presents the band's first new studio recordings since 2002's Hollyweird. Since Poison's 1986 debut, Look What The Cat Dragged In, the band has sold more than 25 million records and DVDs worldwide.
POISON'D! packs 13 explosive cover songs, including new recordings of David Bowie's "Suffragette City," The Cars' "You're Just What I Needed," The Romantics' "What I Like About You," Sweet's "Little Willy," The Marshall Tucker Band's "Can't You See" and The Rolling Stones' "Dead Flowers." Some of Poison's best previously recorded covers are also featured on POISON'D!, including KISS' "Rock and Roll All Nite," Grand Funk Railroad's "We're An American Band" and Loggins & Messina's "Your Mama Don't Dance."
In July, VH1 will premiere a new reality show, "Rock of Love with Bret Michaels." VH1's description of the show has "the hard-rockin' Poison front man looking for a woman who can truly keep up with his rock-n-roll lifestyle and not become jealous of his one true passion -- performing, which has been the reason for and destruction of most of his relationships."
POISON'D 2007 TOUR: CONFIRMED DATES:
Wed., Jun 13 Greenville, SC BI-LO Center
Fri., Jun 15 Orange Beach, AL The Amphitheatre at the Wharf
Sat., Jun 16 Birmingham, AL City Stages (Miller Lite Stage)
Sun., Jun 17 Charlotte, NC Verizon Wireless Amphitheatre
Tue., Jun 19 Cincinnati, OH Riverbend Music Center
Wed., Jun 20 Pittsburgh, PA Post-Gazette Pavilion
Fri., Jun 22 Bay City, MI Bay City River Roar
Sat., Jun 23 Cleveland, OH Blossom Music Center
Sun., Jun 24 Columbus, OH Germain Amphitheatre
Tue., Jun 26 Oakdale, CT Chevrolet Theatre
Wed., Jun 27 Reading, PA Sovereign Center
Fri., Jun 29 Big Flats, NY The Summer Stage
Sat., Jun 30 Mansfield, MA Tweeter Center
Sun., Jul 01 Virginia Beach, VA Verizon Wireless Amphitheatre
Tue., Jul 03 Myrtle Beach, SC House of Blues
Wed., Jul 04 Orlando, FL House of Blues
Fri., Jul 06 Kinder, LA Grand Casino
Sat., Jul 07 Houston, TX Sam Houston Race Park
Sun., Jul 08 Grand Prairie, TX Nokia Live Theater
Thu., Jul 12 Biloxi, MS Hard Rock Biloxi Hotel & Casino
Fri., Jul 13 Pryor, OK Pryor Creek Music Festival
Sat., Jul 14 Oklahoma City, OK Zoo Amphitheatre
Sun., Jul 15 Bonner Springs, KS Verizon Wireless Amphitheatre
Tue., Jul 17 Chicago, IL First Midwest Bank Amphitheatre
Wed., Jul 18 Minneapolis, MN The Myth
Fri., Jul 20 Waukesha, WI Waukesha County Fair
Sat., Jul 21 Fond du Lac, WI Fond du Lac County Fair
Sun., Jul 22 Muskegon, MI Heritage Landing
Tue., Jul 24 Wantagh, NY Nikon at Jones Beach Theater
Thu., Jul 26 Gilford, NH Meadowbrook Center
Fri., Jul 27 Atlantic City, NJ Etess Arena (at Trump Taj Mahal)
Sat., Jul 28 Holmdel, NJ PNC Bank Arts Center
Sun., Jul 29 Bristow, VA Nissan Pavilion
Tue., Jul 31 Detroit, MI DTE Energy Music Theatre
Thu., Aug 02 St. Louis, MO Verizon Wireless Amphitheatre
Fri., Aug 03 Davenport, IA Mississippi Valley Fair
Sun., Aug 05 Sturgis, SD Sturgis Motorcycle Rally
Wed., Aug 08 Silverton, OR Oregon Gardens
Thu., Aug 09 Roseburg, OR Douglas County Fair
Fri., Aug 10 Salinas, CA Salinas Sports Center
Sat., Aug 11 San Bernardino, CA Hyundai Pavilion
Sun., Aug 12 Los Angeles, CA Gibson Amphitheatre
Tue., Aug 14 San Diego, CA Coors Ampitheatre
Wed., Aug 15 Phoenix, AZ Dodge Theatre
Fri., Aug 17 Las Vegas, NV Pearl (at The Palms Casino & Resort)
Sat., Aug 18 Salt Lake City, UT USANA Amphitheatre
Sun., Aug 19 Denver, CO Coors Amphitheatre
Tue., Aug 21 Indianapolis, IN Verizon Wireless Amphitheatre
Wed., Aug 22 Buffalo, NY Darien Lakes
Sat., Aug 25 Scranton, PA Toyota Pavilion
Sun., Aug 26 Saratoga, NY Saratoga Performing Arts Center
Fri., Aug 31 Tampa, FL Ford Amphitheatre
Sat., Sep 01 West Palm Beach, FL Sound Advice Amphitheatre