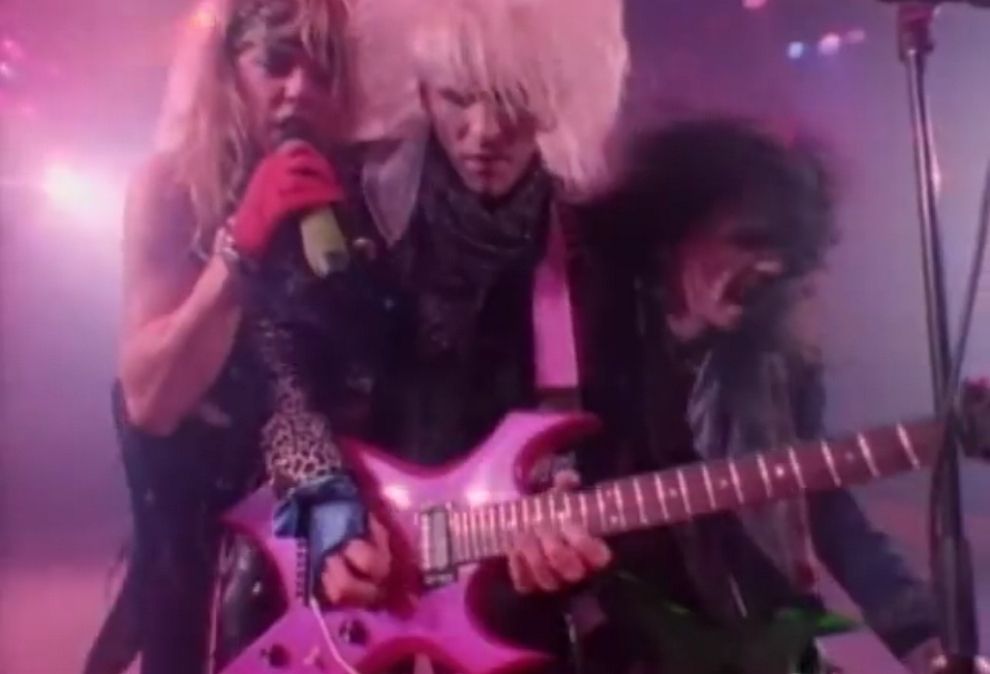 A few weeks ago antiMUSIC.com ran a press release in their "Day In Rock" report about the debut novel, "The Devil of Shakespeare" for rocker Billy McCarthy (the artist formally known as Billy Dior from the band D'Molls, which released two albums on Atlantic records in the late 80s.) They subsequently received a package in the mail containing a CD-rom that included a video of "Talk Dirty To Me" reportedly being performed by the band Screamin' Mimi's in 1984, which featured McCarthy and Poison's C.C. DeVille.
The package did not contain a return address and the accompanying note was not signed. The note said that the sender had seen the article on Billy McCarthy's new book and thought that we might find the video and an mp3 of the radio interview on the CD-rom "interesting". This person claims to have worked with Screamin' Mimi's and alleges that McCarthy played a part in the writing of "Talk Dirty To Me" with DeVille.
Due to copyright issues antiMUSIC was unable to provide the video here but here is a brief description. It begins with a splash screen that says "Screamin' Mimi's Rehearsal 'Talk Dirty To Me' 1984". The video is rather dark but you can make out C.C. DeVille playing guitar and the vocalist is obviously not Brett Michaels. This rendition of the song is extremely close to the Poison version which kicked off their rise to stardom.
Obviously, antiMUSIC was unable to authenticate the video or when it was recorded. However, DeVille gave a radio interview where he mentioned the video. More on that later.
Billy McCarthy's official website (BillyMcCarthy.com) includes a detailed bio of his musical career. According to that bio, DeVille was originally in the band Kid Rocker with McCarthy before that group broke up in the spring of 1984 and the core of the band (DeVille, McCarthy, & bass player Tracey Stevens) formed a new group called Screamin' Mimi's which brought in vocalist Sten Serrensino.
According to the McCarthy bio, "DeVille brings McCarthy one of the first songs he has ever written. He calls it 'Talk Dirty To Me'. McCarthy structures it musically and arranges it."
However, when the song was later released on Poison's debut album, "Look What the Cat Dragged In" the authorship of the song, as all others on the album, was credited to the entire band. There is no mention of McCarthy.
Also included on the disc was a clip from the "National A&R Radio Report", a syndicated radio show that McCarthy used to host. In the clip McCarthy is conducting a phone interview with DeVille, who was out of Poison at the time. (No date was given for this show, it appears to be sometime in 95/96 when Blues Saraceno was in Poison).
Although DeVille did not directly confirm that McCarthy specifically played a part in the writing of "Talk Dirty To Me", he did say that McCarthy should have received money from Poison "for that first album". Deville also confirmed that there were video tapes of Screamin' Mimi's performing "Talk Dirty To Me". (So it is a good chance that he was referring to the video sent to us.)
Here is a transcript of the conversation
[Billy asked C.C. how many albums Poison had sold in their entire career and C.C. answered 20 million records.]
Billy (jokes): "I haven't made $20 thousand dollars in my career yet".
C.C.: Let me tell you something Billy, for that first album you should have made some money.
Billy: I know
C.C.: [can't make out, perhaps "tell"] the story
Billy: Was I an influence on you?
C.C. Billy and I used to play in the same band.
Billy: Yes we did, we played in Screamin' Mimi's
C.C.: And it was an excellent band. In fact, we have video tapes of us doing "Talk Dirty To Me".
Billy: Yes, we do, there is actual tapes of that. Was I little bit of a writing influence on you?
C.C.: Well, well, well Billy I'd love to say yes because I mean it would be your [can't make out]
So the video and this interview do raise some interesting questions. It appears that at the very least DeVille brought the song from Screamin' Mimi's to Poison when he joined. Just how big a part in the writing of that song McCarthy played is not clear beyond McCarthy's claims to have arranged and structured it, but DeVille did say that McCarthy should have 'made some money' from the first Poison album. Perhaps he was alluding to 'Talk Dirty to Me'? Or maybe there are some other songs on that album that McCarthy should have received some credit for?
antiMUSIC will attempt to contact both camps for comment or clarification on this issue.