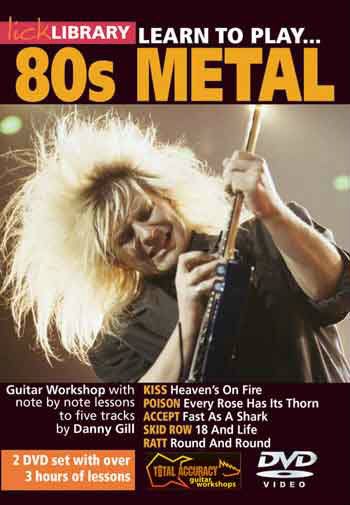 "Learn To Play '80s Metal", the latest release from LickLibrary, features guitar lessons of five classic songs from some of the greatest pop metal acts of the era. Lovers of '80s metal will rejoice in this outstanding double DVD collection of massive bands and greatest hits ? truly a hard-rocking nostalgia trip!
The collection of prominent '80s metal music included on "Learn To Play '80s Metal" has something for all levels of guitar players, whether it is the folksy strumming on acoustic guitar from "Every Rose Has A Thorn" (POISON), or the more involved dual guitar harmonies of "18 And Life" (SKID ROW) and the fast riffs of "Fast As A Shark" (ACCEPT). Also featured are the memorable "Heaven's On Fire" (KISS) and "Round And Round" (RATT) with its power chords and superb guitar solo.
Top guitar teacher Danny Gill breaks each track down into its component parts and gives clear demonstrations of '80s metal techniques. He then plays the complete song through against a full backing track demonstrating everything in the lesson in context.
To purchase the DVD, visit
LickLibrary.com
, where you can also choose from a massive selection of guitar tuition DVDs and thousands of online guitar lessons including a CD of backing tracks complementing this DVD set.