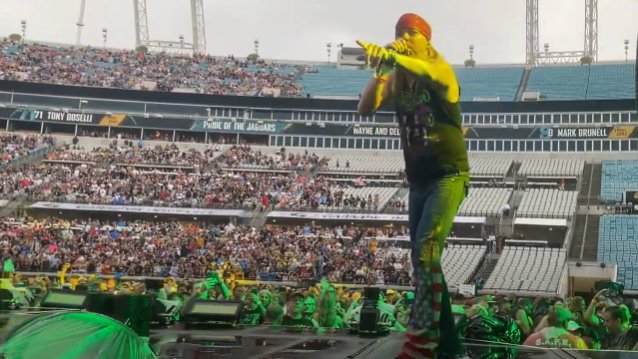 POISON played an abbreviated set Saturday (July 2) in Jacksonville, Florida -because of a storm- two days after the band was forced to cancel in Nashville due to Bret Michaels being hospitalized with a medical issue.
Earlier on Saturday, the singer issued a statement saying he would appear with his bandmates at TIAA Bank Field, along with DEF LEPPARD, MÖTLEY CRÜE and JOAN JETT & THE BLACKHEARTS, but that he would not take part in the pre-concert meet-and-greet. He explained that "doctors have highly recommended that I continue to rest and try to save all the energy I can for the show."
POISON's setlist for the Jacksonville show was as follows:
01. Look What The Cat Dragged In
02. Ride The Wind
03. Talk Dirty To Me
04. Your Mama Don't Dance
05. Guitar Solo
06. Every Rose Has Its Thorn
07. Nothin' But A Good Time
Bret was hospitalized Thursday just before POISON was set to perform at Nissan Stadium in Nashville.
The 59-year-old musician's bandmates came onstage to let concertgoers know that Michaels had suffered a "bad reaction to medication" and that they wouldn't be able to do the show without him.
Earlier in the day on Thursday, POISON announced that it was canceling the VIP meet-and-greet with members of the band in Nashville "due to COVID positive cases within the POISON touring party". Not long after, it was announced that POISON was scrapping its appearance at the concert altogether.