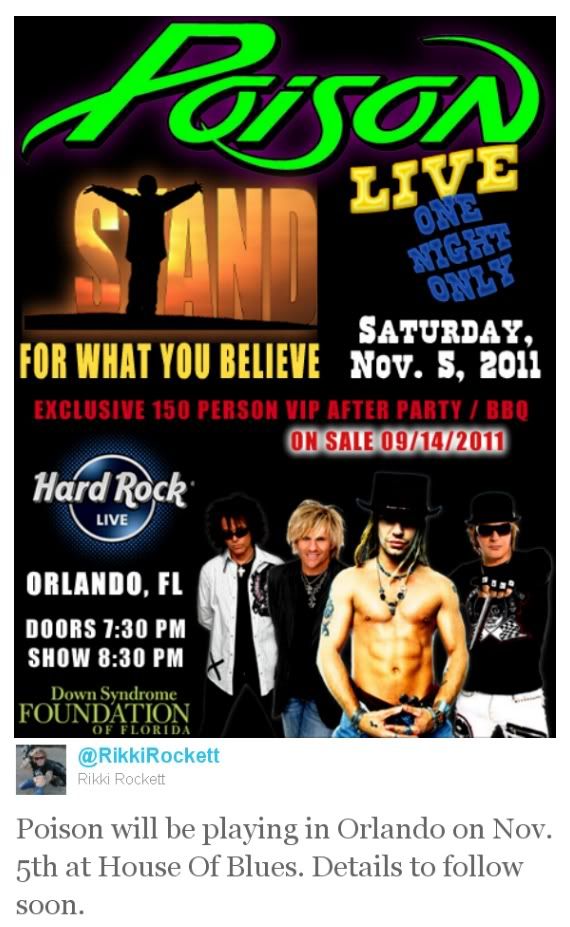 Rikki Rockett has just announced on his
Twitter
account that
Poison will be playing in Orlando
on November 5th at House of Blues.
[10/01] Poison added this unscheduled and intimate concert after the end of their Reunion Tour. VIP ticket holders will enjoy an after-party where the band members are going to serve up Nothin' But a Good Time at an exclusive BBQ on the John Lennon Terrace at the Hard Rock Live after the concert.
CALL 407.222.7232 for VIP Package Sales
$1100 @ VIP Experience
VIP Reception
Reserved Table Seat in Lower Balcony
BBQ & After-Party with Poison
$2500 @ 'Like a Rock Star' Experience
VIP Reception
Personal invitation by Poison for exclusive viewing area for entire show
BBQ & After-Party with Poison
Mingle and have a burger or hot dog with POISON. This is the only time the band has ever held this kind of VIP event.
During the concert the band will auction off select items and a LIMITED number of VIP passes to their BBQ after party.
All proceeds of the concert will go to support the vision and mission of The Down Syndrome Foundation of Florida.
To purchase GENERAL ADMISSION / RESERVED BALCONY TICKETS go to
TicketMaster
or
Hard Rock Live
Down Syndrome Foundation of Florida
PO Box 533462
Orlando, FL 32853-3462
info@dsfflorida.org
phone: 407.538.3537
http://www.dsfflorida.org/STAND_concert_by_POISON.html