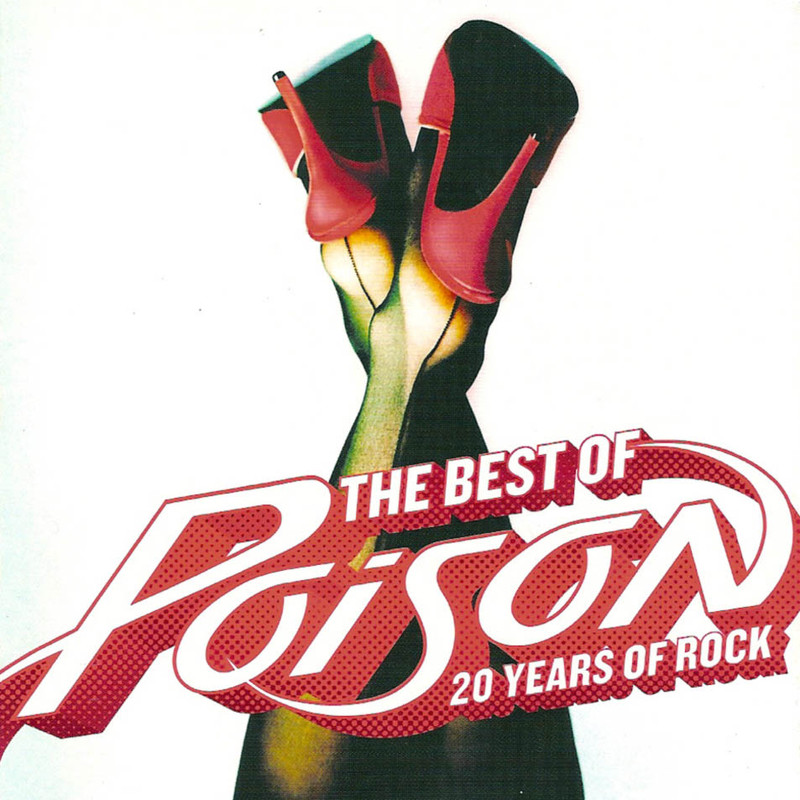 POISON, one of hard rock's most iconic, enduring and controversial bands, celebrates 20 years in 2006. To commemorate this anniversary milestone and the band's career tally of more than 25 million albums and DVDs sold around the world, POISON and Capitol/EMI Music Catalog Marketing have partnered to release "The Best Of Poison: 20 Years Of Rock" on April 4. The new 18-track collection packs POISON's biggest hits and fan favorites and will also debut the group's explosive new version of GRAND FUNK RAILROAD's "We're An American Band", produced by Don Was (THE ROLLING STONES, BOB DYLAN). In May, POISON will hit the road for a major 20th anniversary summer tour sponsored by Live Nation! and presented by VH1 Classic.
With the band's most recent studio album, "Hollyweird", along with "Poison Greatest Hits", which just reached double platinum, and their gold-certified "Greatest Video Hits" DVD, POISON continues on with a do-it-yourself attitude, also touring to sold-out venues around the world. Following a 2003 VH1-sponsored tour, POISON co-headlined a national tour with KISS in 2004.
POISON's 20th anniversary world tour will take the band to major concert venues around the globe this summer. Tour dates and line-up details will be announced and posted to the band's official website as they develop. Visit www.poisonweb.com and www.bretmichaels.com for the latest POISON news and links to other related websites.
POISON frontman Bret Michaels recently appeared on the cover of Billboard and Radio & Records magazines for his recently released solo album, "Freedom of Sound", and his 2005 solo tour broke attendance records at several outdoor venues. Michaels' rootsy Americana style has helped the album's lead single, "All I Ever Needed", cross from rock to country airplay charts. Michaels manages his own record label, BMB Records, and he has also produced and written songs for numerous artists, including "Love's A Hard Game To Play" from STEVIE NICKS' platinum-certified "Timespace: The Best Of Stevie Nicks".
Michaels has made numerous television show guest appearances, including "Yes, Dear" and "Martial Law" on CBS, "The Chris Isaak Show" on Showtime, and has been a judge on USA's "Nashville Star" and a co-host of the syndicated entertainment news show "Access Hollywood". He has also appeared on VH1's "Rock Bodies" with Beyonce Knowles, made Spin magazine's "Top 100 Greatest Moments in Rock", has appeared on the cover of Playgirl magazine and has had his ten-acre Malibu ranch featured on MTV's "Cribs".
Premiering in March, the new season of VH1's hit show "The Surreal Life" features POISON's C.C. Deville with housemates Sherman Helmsley ("The Jeffersons"), Steve Harwell (SMASHMOUTH), Florence Henderson ("The Brady Bunch"), Tawny Kitaen (of Jaguar hood-writhing WHITESNAKE video fame), Andrea Lowell (Playboy TV), and the recently gender-swapped Alexis Arquette.
In April, Rikki Rockett will make a guest appearance on TLC's new "Wrecks To Riches" auto overhaul series, helping to restore a 1969 Dodge Dart before giving POISON's new version of "We're An American Band" a spin on the car's amped-up sound system.
"The Best Of Poison: 20 Years Of Rock" track listing:
01. Cry Tough
02. Talk Dirty To Me
03. I Want Action
04. I Won't Forget You
05. Look What The Cat Dragged In
06. Nothin' But A Good Time
07. Fallen Angel
08. Every Rose Has Its Thorn
09. Your Mama Don't Dance
10. Rock And Roll All Nite
11. Unskinny Bop
12. Something To Believe In
13. Ride The Wind
14. Life Goes On
15. Stand
16. The Last Song
17. Shooting Star
18. We're An American Band [new recording, produced by Don Was]