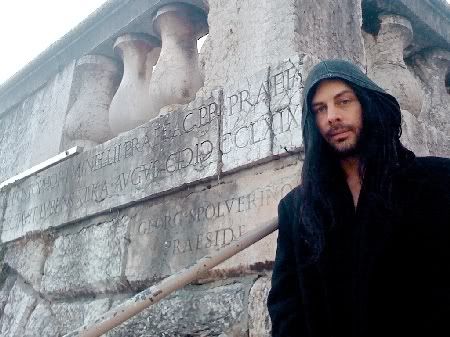 Guitarist Richie Kotzen (MR. BIG, POISON) has issued the following update:
"I am finally back in my home after completing a very satisfying tour of Europe as well as three inspired (California) shows with George Lynch and Paul Gilbert. Although I have been spending a lot of time overseas (the last three years), this time I was invited to some countries I have never been before. I was very impressed with the people I met on this trip as well as the stunning European architecture.
"Now that I'm home, I am listening to all the ideas I've documented in my travels with the intent to record what will become my next solo record. Although I have no clue how it will end, I am anxious to begin the recording process once more.
"I'm also flattered by the positive responses I have been receiving as it relates to the WILSON HAWK collection of material (which is now available on iTunes). I performed 'Everything Good' (from WILSON HAWK) a few times on the tour as well as the song 'The Road' at the show in Koln (Germany). The performance of 'The Road' at that show was something I decided to do at the last minute. When we arrived at the venue, there was a piano there. During soundcheck I showed the song to my band (who never heard of it) and we played it that night. I have not played a piano in public in at least five years. So I felt like I was really going out on a limb. We ended up pulling it off and I was thrilled to step outside of what I normally do during my live show.
"In addition to recording my new songs I am looking forward to returning to South America with my NEW band (David Filice - bass, Demian Arriaga - drums) for another tour of Brazil, Chile, and Argentina. We will arrive in South America mid-April and remain there for approximately three weeks. As well as touring South America again, I am also exploring options as it relates to finally touring North America. It is crazy for me to think that the only time I ever really toured North America on MY music (and not a part of a band) was in 1994. And then, of course, there is Japan. The last tour I did in Japan was as the opening act for THE ROLLING STONES in 2006. I think it's about time for another Japan run as well!"