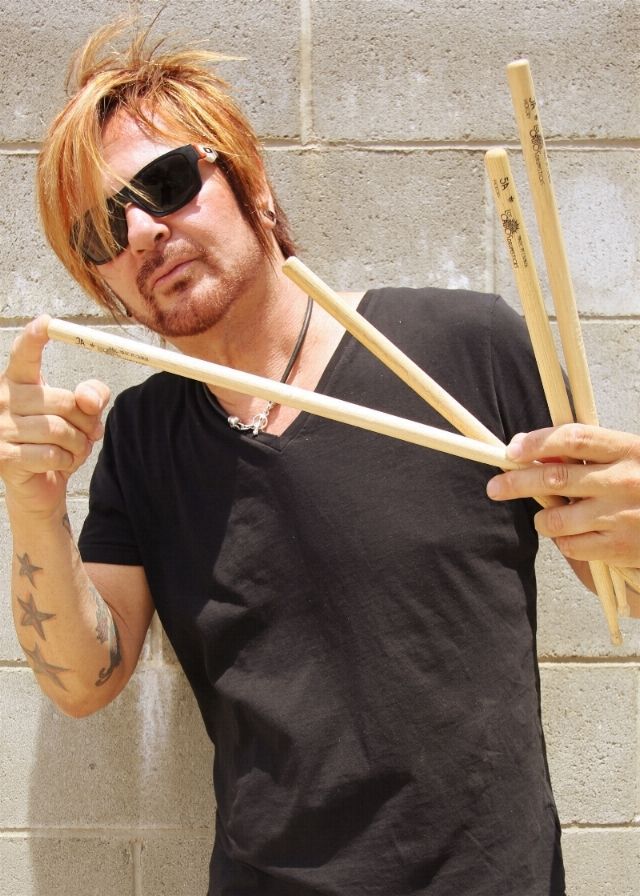 Los Cabos Drumsticks are pleased to announce that Rikki Rockett has joined the ever growing roster of Los Cabos Drumsticks artists. Rikki Rockett is a huge boost to our roster of artists and can't wait to see what the future brings.
Rikki Rockett, drummer for the multi-platinum rock band has not only launched a new band "Devil City Angels", but also a new relationship with Canadian stick makers, "Los Cabos Drumsticks". Rockett, who endorsed Vater for many years, decided to move on recently and assures fans that he absolutely, has no "sour grapes" with Vater. "It's just time to develop a new relationship with a smaller, more boutique, and handcrafted company." the veteran drummer said. "I'm first and foremost a dedicated drummer and secondly a dedicated drum craftsman. Los Cabos Drumsticks represents a reflection of that same dedication to me."
Rockett and Los Cabos will be cooking up a special stick in the future, but for now Rikki will be using some of Los Cabos current line. "I love my new band, Devil City Angels", Rockett said. "I look forward to making some exciting music and doing great live shows with them in the very near future." Devil, City Angels features Tracii Guns (LA Guns), Eric Brittingham (Cinderella), Brandon Gibbs (Gibbs Bros). Poison fans can rest assured that Rockett has no intention of walking away from Poison, either. "Poison is my family and family is forever."