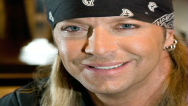 Dr.Zabramski, Rikki Rockett (Poison), Pete Evick (B*M*B) were on Larry King Show talking about Bret Michaels' condition.
About Michaels current condition following a brain hemorrhage, Zabramski says he's "doing really well, but still suffering a great deal." He expects a 100% recovery and Michaels will resume all activity.
Evick says that Michaels "is a little slower than I'm used to seeing him, but he realizes how lucky he is to be alive. Bret has every intention to continue, heal and show the world he's here to rock."
Adds Rockett: "I don't think he should be operating any heavy machinery or dancing with the stars right now. At times he's upbeat, but he was going crazy in the hospital. After going into rehab he sounds a whole lot better. He's the Evel Knievel of hard rock singers."
Rockett also remarked that that he and Bret had spoken about the band's 25th Anniversary next year and they have every intention to celebrate it next summer.
http://bit.ly/9gIYXd